Bookstore
Climbing Guides
Wildlife
History
Geology

Shop for souvenirs, and apparel.
Check out our Bargain Basement page for more great saving$!

It's here! The new City of Rocks and Castle Rocks State Park climber's guide by Dave Bingham is now in stock. Over 300 pages of color diagrams, photos,climbing routes, and more makes this book a
must have.
312 Pages, $36.00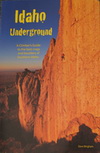 Idaho Underground. Come explore Idaho's crags with the first-ever guide to over 600 climbs and boulder problems. Included areas some of the west's most unique climbing sites on a variety of rock types and styles-both above and below ground level!
120 pages $14.95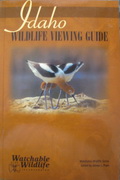 Idaho Wildlife Viewing Guide. This Idaho Wildlife Viewing Guide is your ticket to the premier places to see Idaho's wildlife, which includes:
100 sites with descriptions of habitats
Lists of species to view in the area
Numerous color photos of wildlife and scenery
Color maps for each site
Site notes with specific directions and information
Size of site and nearest town
143 pages $11.95
ORDER
Quick Reference Guides. These laminated pocket size quick reference guides include ranges and habitats, sizes, descriptions as well as easy field identification. Waterproof laminated pages with color photos.
New to our collection is Raptors of Western North America, a comprehensive guide to all species!
$7.95
ORDER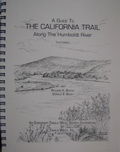 A Guide to The California Trail Along The Humboldt River. This Guide is part of the Emigrant Trails West Series of guidebooks that cover the major trails used by emigrants who traveled overland to California and southern Oregon during the 1840s and 1850s. This guidebook focuses on markers placed at significant locations along an emigrant trail, with driving instructions to them, emigrant narratives on the marker area, maps showing the markers and trails they identify, photos of the trails, and historical explanations of these trails.
186 pages, $25.00
ORDER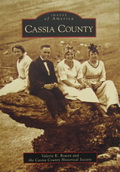 Cassia County. Cassia county is located in south-central Idaho along the Snake River. It has more pioneer trails going through it than any other county in the United States. It has a diversity of natural beauty. City of Rocks National Reserve, with its towering formations growing up from the high desert valley floor, was a landmark for pioneer wagons traveling through the area.
128 pages, $21.99
ORDER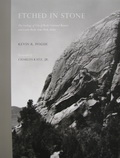 Etched In Stone. The geology of City of Rocks National Reserve and Castle Rocks State Park, Idaho. The granite of the Albion Mountains has been deeply etched by the corrosive action of water and naturally occurring compounds in solution. Though "etched in stone" is a phrase often applied to something that cannot be changed, this book should convince you that the City of Rocks and Castle Rocks are anything but static and unchanging. The etching of these rock spires has been happening over millions of years. The present shapes should be viewed as a mere snapshot in geologic time.
132 Pages, $16.95
ORDER
RETURN POLICY
If you are not happy with your item please return in the original packaging with tags and or receipt within 30 days. Purchase price will be refunded by the same method as the payment was made. Postage and packaging will not be refunded.
If your item is faulty or we have sent you something different to what you ordered, again please return it to us within 30 days and we will give you a full refund or replacement, including postage and packaging.
Please call City of Rocks National Reserve at 208-824-5901 with any questions.
Returns Address:
City of Rocks National Reserve
3035 South Elba-Almo Rd.
Almo, Idaho 83312