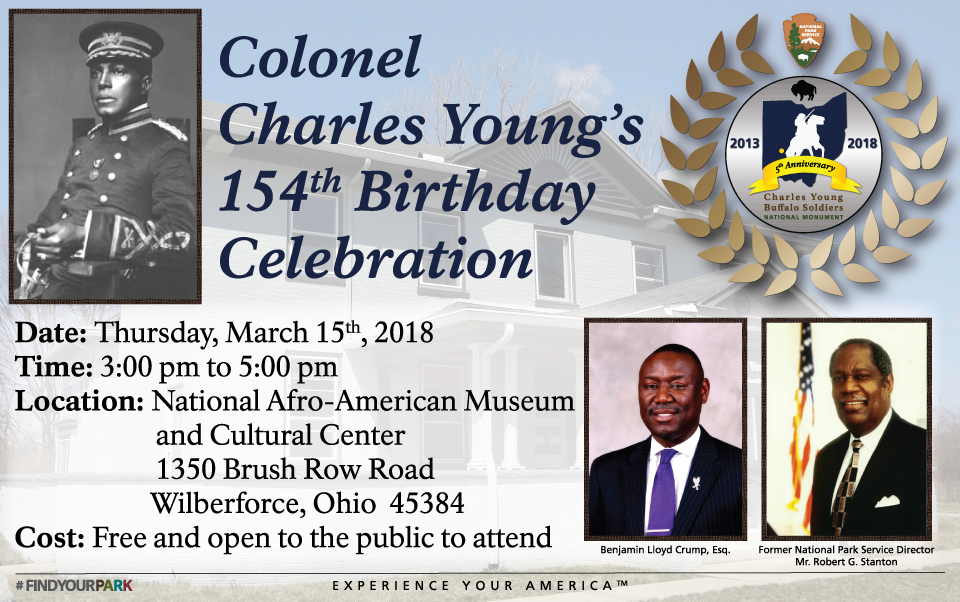 News Release Date:
March 11, 2018
Contact: Robert Stewart, 937-352-6757
National Park Service and Partners Celebrate the Birthday of Colonel Charles Young
The National Park Service (NPS), the National Afro- American Museum and Cultural Center (NAAMCC) and Omega Psi Phi Fraternity, Inc. will celebrate the 154th birthday of Colonel Charles Young on Thursday, March 15, 2018 from 3:00 p.m. to 4:00 p.m. This free public event will take place at the National Afro-American Museum and Cultural Center located at 1350 Brush Row Rd, Wilberforce, OH 45384.

Mr. Robert G. Stanton, former director of the National Park Service under the Clinton Administration and served as Senior Advisor to the Secretary of the Department of the Interior under the Obama Administration, will be the Keynote speaker for this event. The presentation of the first Trail Blazer Award will be given to Mr. Stanton and Attorney Benjamin L. Crump, well-known civil rights attorney and activist who has represented the families of Trayvon Martin, Michael Brown, Corey Jones, Tamir Rice, and others.

A special music presentation by Wilberforce University's Gospel Choir will highlight this event. Additional remarks will be shared by Dr. Cynthia Jackson – Hammond President of Central State University, Dr. Elfred Pinkard President of Wilberforce University, Dr. Charles Wash, Director of the National Afro- American Museum and Cultural Center, Mr. Robert Braggs Southwest Ohio Outreach Representative in the office of U.S. Senator Rob Portman, Mrs. Marty Heide District Outreach and Director of Special Events in the office of Congressman Mike Turner, Dr. Joy Kinard Superintendent of the Charles Young Buffalo Soldiers National Monument, and other area community leaders. A reception will follow the program.

This event will be live-streamed on the park's Facebook page.

Visit the Directions page for detailed directions to the NAAMCC and for additional information about the park and Colonel Charles Young.