Basic Information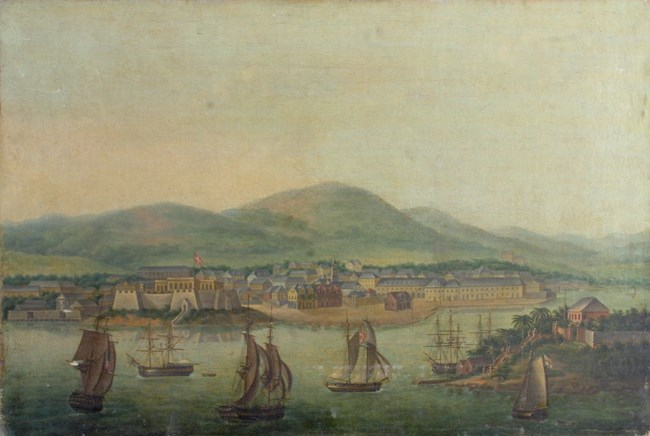 Capital of the Danish West Indies when Sugar Was King
Denmark was late in the race to establish colonies in the New World. Columbus' voyages to the Caribbean gave Spain a monopoly in the region for over a century. Soon after the English established a colony in St. Kitts in 1623 and Barbados in 1627, the French, Dutch, and eventually the Danes joined in the scramble for empire and the dream of wealth. Seeking islands on which to cultivate sugar cane and serve as outlets for trade, the Danish West India & Guinea Company (a group of nobles and merchants chartered by the Danish Crown) took possession of St. Thomas in 1672, and its neighbor St. John in 1717. Because neither island was well suited to agriculture, the Company purchased the island of St. Croix from France in 1733. Located just 40 miles to the south, St. Croix is more than double the size of St. Thomas and has a large, fertile coastal plain perfectly suited for agriculture.
Colonization of St. Croix began the next year, following a slave revolt on St. John. The town of Christiansted was planned and named in honor of reigning King Christian VI. The island was soon surveyed and divided into plantations of 150 acres, priced to attract new settlers. The best land quickly came under cultivation, and dozens of sugar factories were soon operating. By 1755, the population of St. Croix was 10,100, 8,897 of whom were enslaved Africans. Over 100,000 enslaved Africans would come through Christiansted's wharf, were sold in markets across Christiansted and the rest of the island, and endured and survived what has been termed one of the "greatest tragedies in the history of humanity in terms of scale and duration."
Be sure to down load the Park Brochure and learn the amazing history of Christiansted National Historic Site.
Last updated: August 2, 2023