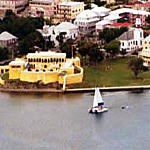 Capital of the Danish West Indies when Sugar Was King
Denmark was a late comer in the race for colonies in the New World. Columbus's voyages to the Caribbean gave Spain a monopoly in the region for over a century. But after the English planted a colony in the Lesser Antilles in 1624, the French, Dutch and eventually the Danes joined in the scramble for empire. Seeking islands on which to cultivate sugars as well as an outlet for trade, the Danish West India & Guinea Company (a group of nobles and merchants chartered by the Crown) took possession of St. Thomas in 1672 and its neighbor St. John in 1717. Because neither island was well suited to agriculture, the company in 1733 purchased St. Croix - a larger, flatter, and more fertile island 40 miles south from France.
Colonization of St. Croix began the next year, after troops put down a slave revolt on St. John. They planned a town in Christiansted, in honor of reigning King Christian VI and had the island surveyed into plantations of 150 acres, priced to attract new settlers. The best land came under cultivation and dozens of sugar factories began operating. Population approaching 10,000 nearly 9,000 of those slaves imported from West Africa to work the fields. Over the next 115 years more than 100,000 Africans would come through Christiansted's wharf.