Pets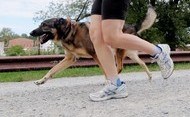 By leashing your dog you can:
-Keep them safe from exposure to rabies and Lyme Disease
-Prevent them from getting hit by bikers
-Keep wildlife safe from a dogs' natural instincts
-Let other visitors of all ages feel safe
Pets must be on a leash no longer than 6 feet at all times. Please obey the leash law.
Please notice! Dogs are not allowed on the Billy Goat Trail Section A, or on the overlook trail to Great Falls.
All dog waste must be picked up and disposed of outside of the park.
Last updated: April 10, 2015