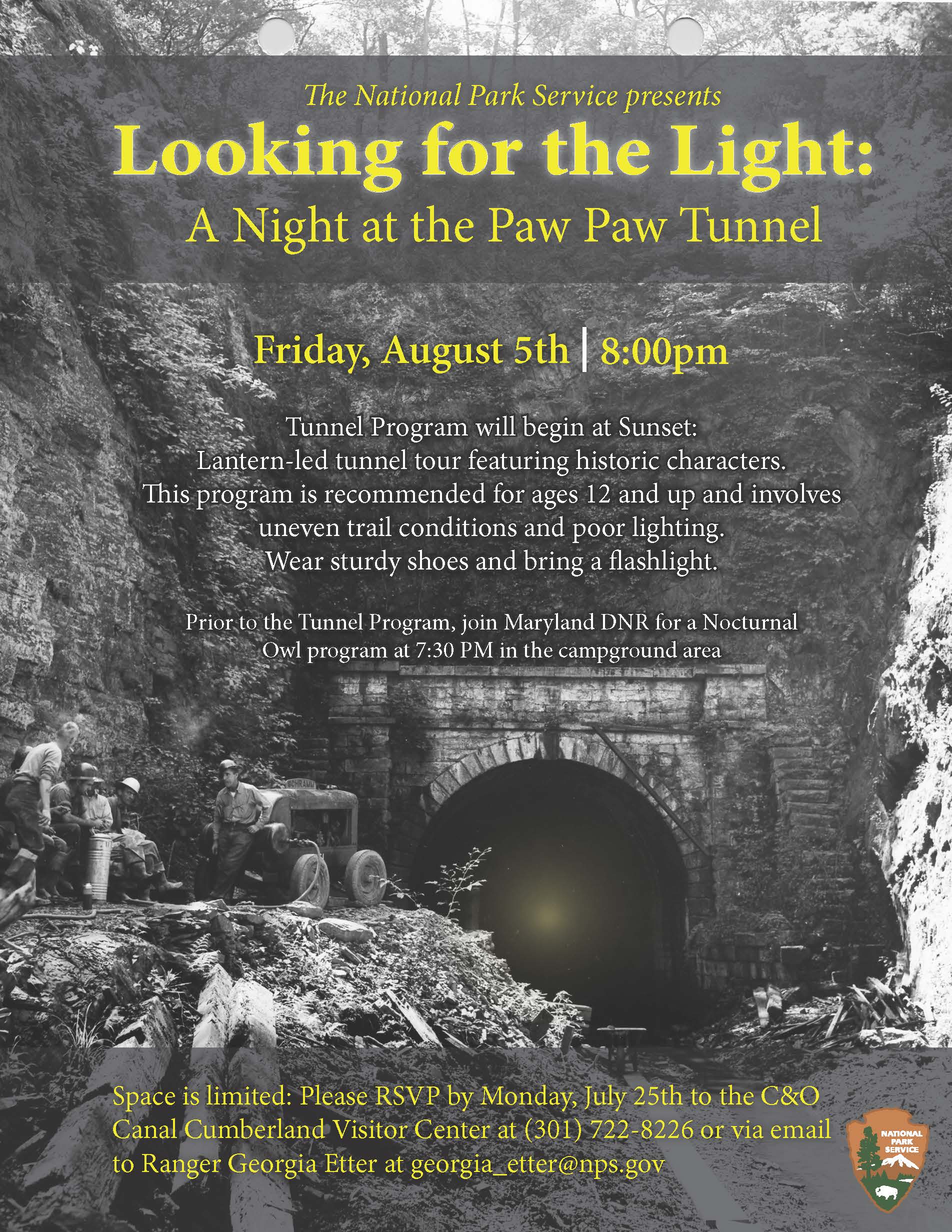 News Release Date:
July 8, 2016
Contact: Cumberland Visitor Center, 301-722-8226 ext. 0
Cumberland, MD - To celebrate the National Park Service Centennial in 2016, the Chesapeake and Ohio Canal (C&O Canal) National Historical Park will be presenting a special evening program and tour at the Paw Paw Tunnel on Friday, August 5th, 2016. Looking for the Light –A Night at the Paw Paw Tunnel will take visitors back and forth through time, meeting historic characters from the tunnel's past, during a 2-mile roundtrip lantern-led program. The largest structure along the C&O Canal, the tunnel was under construction for fourteen years, including several years when no progress was made. The tunnel is located 25 miles south of Cumberland, Maryland off MD Route 51.
The event is free; however, reservations are required for this program as tour size is limited. Please make reservations by Monday, July 25th by calling the C&O Canal Cumberland Visitor Center at (301) 722-8226 or via email to Ranger Georgia Etter at e-mail us.
Participants should plan to arrive by 8:00 p.m. for participation in the Tunnel program;the program will start just after sunset. Participants should wear comfortable footwear and be aware that the path through the tunnel is wet and uneven. Flashlights and lanterns are available, but visitors are encouraged to bring their own flashlight if desired. Due to uneven trail conditions and poor lighting, it is recommended that young children not participate in the Tunnel program.
Prior to the Tunnel program at 7:30 p.m., Maryland Department of Natural Resources staff, Katy Barger and Katelynn Earnest from Rocky Gap State Park, will present a Nocturnal Owl program at the Paw Paw campground amphitheater area, adjacent to the parking lot. Seating is limited and you are welcome to bring a chair for the DNR program.