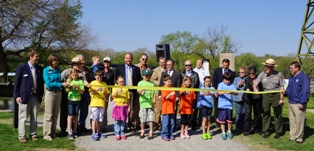 News Release Date:
April 26, 2013
Chesapeake and Ohio Canal National Historical Park dedicated two new TRACK Trails for children during a ribbon cutting ceremony at 9:30 a.m. on Friday, April 26. The new trails follow the C&O Canal towpath and incorporate self-guided brochures for the children to follow that help with their discovery.
Speakers at the event included: Joseph Ross, President and CEO of Meritus Health; Jason Urroz, Director of Kids in Parks; James McCleaf, Mayor of Williamsport; and Kevin Brandt, Superintendent of C&O Canal NHP.  Special guests included the entire fourth grade class from Williamsport Elementary School who cut the ribbon and were the first children to walk the TRACK Trail.
TRACK Trails are being developed for all 13 national parks in the Greater Washinton DC area with funding from a National Park Service Connect Trails to Parks grant.  They are part of a larger National Park Service Healthy Parks Healthy People initiativeto encourage people to enjoy parks and public lands to the fullest for physical and mental health, healing and social well-being.
The trails are developed in cooperation with the Blue Ridge Parkway Foundation's KIDS in Parks program.TRACK Trails connect various public lands in an attempt to get kids "un-plugged", outdoors and reconnected with nature for their health and the health of our parks. Each TRACK Trail has a series of brochure-led self-guided adventures designed to turn an ordinary hike into a fun-filled adventure.
The Kids in Parks program has been installing a network of kid-friendly hiking trails since 2009. The program's initial success and ease of replication has gained national attention leading to the program's growth. "The network of TRACK Trails that has been formed in the region will continue to grow, giving kids and families from the area multiple options to get outdoors and get connected to the resources, special places and national history that make this region so wonderful," said Jason Urroz, Director of Kids in Parks.
Joseph Ross, President and CEO of Meritus Health  in Hagerstown, Maryland congratulated the National Park Service on this innovative program. "I am excited that we have been invited to partner with the Park Service to encourage physical outdoor activity in the parks. Together we can work in our community to reduce childhood obesity by encouraging children to get outside and do the things they enjoy, "said Ross.
James McCleaf, Mayor of Williamsport, expressed his excitement about having this new resource for Williamsport and another opportunity for the children to learn and explore.
"As stewards of our national heritage we strive to connect each generation with its inheritance," stated Superintendent Brandt. "As the torch is passed, we now strive to affirm the value of national parks as places to renew ourselves physically and mentally. It's hard to deny on a day as beautiful as today, that each one of us isn't enjoying being outside in this fresh air, sunshine and what a great day to take a hike! Without a doubt, national, state and local parks share immeasurable potential as "backyard" venues for people to improve their physical and mental wellbeing by spending time outdoors.
TRACK Trails also were opened and dedicated at Catoctin Mountain Park and Manassas National Battlefield Park on Friday. This brings the number of national parks in the Greater Washington, DC area currently offering TRACK Trails to six. In September TRACK Trails were opened at the National Mall, Rock Creek Park and National Capital Parks East. Trails will be opening at other national parks in the Greater Washington Area by this summer.
After hiking a TRACK Trail children are encouraged to register their hike at KidsinParks.com to receive incentives.