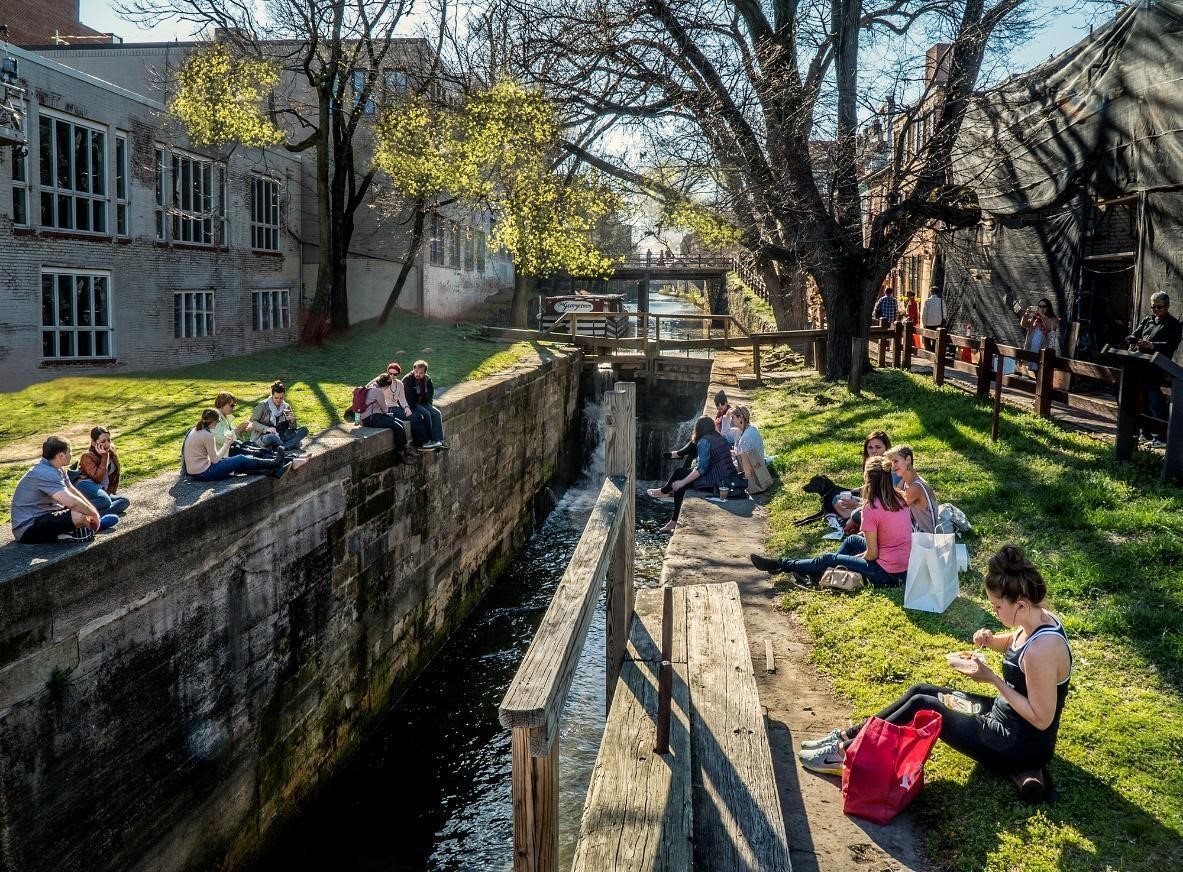 News Release Date:
June 7, 2017
Contact: Jenny Anzelmo-Sarles (NPS), 202-619-7177
Contact: Lauren Boston (Georgetown Heritage), 202-298-9222 x215
WASHINGTON (June 7, 2017)
— Add your voice to shape the future of the Chesapeake & Ohio Canal National Historical Park (C&O Canal NHP) in Georgetown! The National Park Service (NPS) and Georgetown Heritage invite you to a hands-on workshop on Wednesday, June 14 from 6 to 8 p.m. at Canal Overlook room at Georgetown Park.
The NPS and Georgetown Heritage, with support from the D.C. Office of Planning and the Georgetown BID, are undertaking a plan/Environmental Assessment (plan/EA), and will work with the community and the American public to reimagine, restore and revitalize a mile-long section of C&O Canal NHP. 
The goals of the plan/EA are to restore the canal and preserve the historic character and cultural significance of the C&O Canal NHP, create active public spaces for people to relax or get active and enjoy history and nature, make it easier and safer for people to get to and enjoy the popular towpath, address maintenance needs, and look at ways to beautify and enliven the space through Georgetown's Historic District.
The June 14 workshop will focus on the scope of the project and developing exciting concept designs. It will be just one of three workshops over the next year to solicit ideas and feedback as the design takes shape. Following a brief presentation, participants, working in small groups, will have the opportunity to share their thoughts and ask questions. James Corner Field Operations (JCFO), renowned urban design and landscape architecture firm, has been contracted by Georgetown Heritage to develop designs and will facilitate the workshop.
For more details and to RSVP for the workshop, visit
Georgetowncanal.eventbrite.com
. RSVPs are encouraged, but not required. Join us:
Wednesday, June 14, 2017, 6 to 8 p.m.
Georgetown Park 3276 M Street, NW in the Canal Overlook room (far east side - next to Dean & Deluca).
If you have special needs to be accommodated during the public workshop, please contact Carol Truppi at
ctruppi@georgetownheritage.org
or 202-534-1436.
Public comments will be accepted from June 14 through July 14, 2017 at the National Park Service's Planning, Environmental and Public Comments (PEPC) website at  
http://parkplanning.nps.gov/Georgetowncanalplan
or by mail to:
Superintendent
C&O Canal National Historical Park Headquarters Office
Attention: Georgetown Canal Plan
1850 Dual Highway, Suite 100
Hagerstown, MD 21740  
All comments must be postmarked by July 14, 2017, to be considered. Before including your address, phone number, e-mail address, or other personal identifying information in your comment, you should be aware that your entire comment – including your personal identifying information – may be made publicly available at any time. While you can ask us in your comment to withhold your personal identifying information from public review, we cannot guarantee that we will be able to do so.
###
 
About the Georgetown Canal Plan
The National Park Service and Georgetown Heritage, with support from the D.C. Office of Planning and Georgetown BID, are restoring, reimagining and revitalizing a one-mile section of Chesapeake and Ohio Canal National Historical Park. Throughout the planning, the project partners will be eager to hear the public's ideas on creating engaging spaces in Georgetown.
The plan, which is expected to be completed in summer 2018, will be developed according to the National Environmental Policy Act (NEPA), ensuring the park's natural and cultural resources are carefully considered and protected. Funding for the Georgetown Canal Plan comes from the District of Columbia Executive Office of the Mayor, Deputy Mayor for Planning and Economic Development, the Georgetown BID and private philanthropy. A combination of public and private sources will fund the implementation of the plan.
Visit
www.georgetownheritage.org/master-plan/
for more information on the C&O Canal restoration in Georgetown.
About Chesapeake and Ohio Canal National Historical Park
The Chesapeake and Ohio Canal National Historical Park, one of America's 417 national parks, preserves and interprets the canal's history and natural resources while inspiring adventure and outdoor recreation. Each year nearly 5 million people enjoy the opportunities for fun and learning that the 184.5-mile-long park has to offer. Visitation to the park supports more than 1,300 jobs and contributes more than $126 million to local economies. Learn more at
www.nps.gov/choh
or follow the C&O Canal on Facebook at
chesapeakeandohiocanal
and on Twitter
@COcanalNPS.
About Georgetown Heritage
Georgetown Heritage is the new nonprofit partner of C&O Canal National Historical Park in Georgetown, and was created by community leaders to partner with the National Park Service to restore, revitalize, and reimagine the first mile of the C&O Canal through Georgetown and other National Park assets in Georgetown. The National Park Service and Georgetown Heritage, with support from the D.C. Office of Planning are partnering to develop the Georgetown Canal Plan. Learn more at
www.georgetownheritage.org
.
About DC Office of Planning
The DC Office of Planning guides the development of the District of Columbia, including the preservation & revitalization of the city's distinctive neighborhoods, by informing decisions, advancing strategic goals, encouraging the highest quality outcomes, and engaging all communities. Learn more at planning.dc.gov.