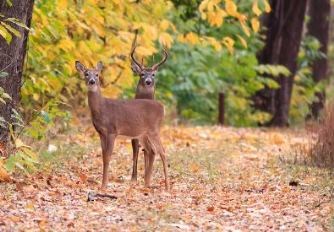 Chronic Wasting Disease in Deer
In January of 2010, the state of Virginia announced its first confirmed case of Chronic Wasting Disease (CWD) in a white-tailed deer. CWD is a contagious and fatal neurological (brain and nervous system) disease that can infect deer, elk, and moose. Although most cases of CWD occur in the western United States, in 2005 it was discovered in Slainsville, WV. Since this discovery there have been multiple confirmed cases in Hampshire County, WV, but trends were not indicating spread beyond the county line. The announcement of the case in Virginia (Frederick County) has alerted wildlife managers that the disease is on the move, and of the need to expand efforts to monitor for the disease.
Per National Park Service policy, the park has begun surveillance for CWD. To date, deer showing clinical signs of the disease have not been reported to the park.
Visitors can help monitor for the disease by reporting animals that appear to be demonstrating clinical signs to NPS staff. Signs include:
●
Excessive drinking and urination
●
Blank facial expression
●
Repetitive walking in set patterns
Although there is no evidence that CWD poses a risk for humans, public health officials recommend that people do not approach or consume animals that may be infected. If you come across an animal that is displaying these signs contact Park Dispatch at 1-866-677-6677. For more information visit
www.cwd-info.org/index.php