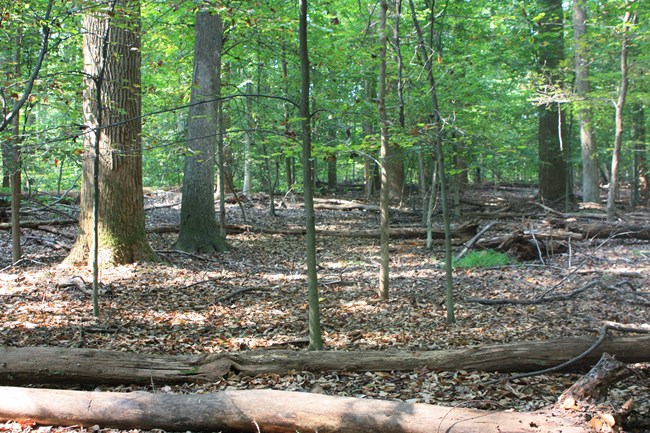 Why do we need a white-tailed deer management plan?
An overabundant white-tailed deer population is damaging the forest and agricultural areas in Chesapeake & Ohio (C&O) Canal and Harpers Ferry National Historical Parks.
Deer population surveys within the parks in 2015 determined that the population density ranges from 60-150 deer per square mile, when research suggests a density of 15-20 deer per square mile is necessary for a forest to be self-sustaining.
Why is a large deer population an issue?
In a self-sustaining forest, there is a wide range of native trees in all stages of life, from seedling to sapling to fully mature trees. There also is an understory layer of herbaceous (non-woody) plants, including a variety of wildflowers, and native shrubs.
However, since deer eat a wide variety of vegetation, including young trees and shrubs, this vital balance is missing at the C&O Canal and Harpers Ferry. The consistent overpopulation of deer in these parks has reduced the ability of the forests to regenerate. Whenever a tree falls or is removed, there are no seedlings or saplings to replace it.
Native birds and other animal species that rely on the native understory plant communities have also lost their habitat. In addition, deer browsing has resulted in damage to crops and associated vegetation that are key components of the historic landscape.

How will this management plan help?
To address this situation, the National Park Service (NPS) has developed a deer management strategy that supports long-term protection, preservation, and restoration of native vegetation and cultural landscapes.
The White-Tailed Deer Management Plan and Environmental Assessment evaluates a range of approaches to achieve and maintain sustainable numbers of deer in the two parks to protect historic landscapes, support healthy native vegetation, and manage the spread of chronic wasting disease in deer.
The NPS has identified that the "Alternative D: Combined Lethal and Nonlethal Deer Management" plan is the most appropriate method to manage the deer populations. Under this plan, sharpshooting, limited capture and euthanasia, and reproductive controls could be used where and when appropriate to manage the deer population. This management plan was made available for public review and comment Spring 2017.