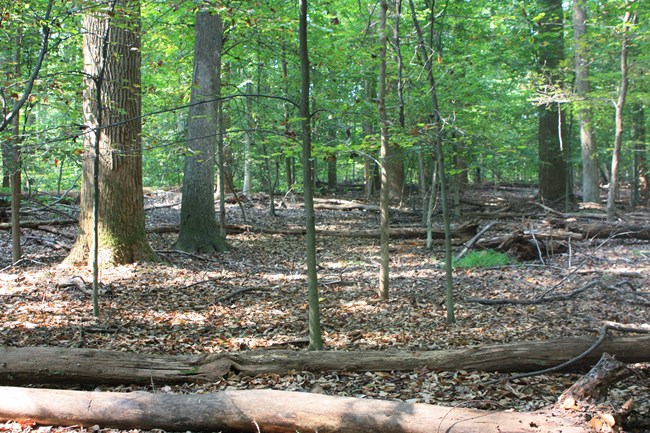 History of White-Tailed Deer at Chesapeake & Ohio Canal National Historical Park
White-tailed deer are an important part of the ecosystem at Chesapeake & Ohio (C&O) Canal National Historical Park (NHP). If you've visited the park, you've likely seen deer on the trails or roads. Since the early 1900s, as a result of lower mortality rates due to a lack of predators and increased availability of food and habitat, the deer population has increased throughout the eastern United States.
For several years, C&O Canal has monitored vegetation plots and surveyed deer density. Fewer than 20 percent of the vegetation plots have enough tree seedlings to ensure healthy forest regeneration. Deer density at the park has varied from year to year, but has remained consistently higher than the recommended 15-20 deer per square mile needed for a healthy forest. For example, recent surveys in the Great Falls, Md., area of C&O Canal show approximately 78 deer per square mile.
Prompted by a marked decline in forest regeneration, C&O Canal initiated a public process to create a plan, which calls for quickly reducing the density of deer to support long-term protection and restoration of native plants and to promote a healthy and diverse forest. The plan also addresses the potential for a spread of chronic wasting disease in deer within the park. The plan was developed for both Harpers Ferry and C&O Canal national historical parks because both parks face the same issues of high deer densities and lack of forest regeneration.

Deer Management
The NPS must balance the needs of all animals and plants at C&O Canal. The NPS has identified an initial density goal of 15-20 deer per square mile at C&O Canal to allow for healthy forest regeneration. The NPS uses an adaptive management approach that is flexible based on how deer and vegetation populations respond.
The plan outlines lethal and nonlethal strategies. The NPS will use lethal reduction, including the use of firearms and/or selective use of archery by authorized federal agents to quickly reduce the population. Each park will develop site-specific implementation plans to outline their operation prior to the start of any activities. Future lethal management activities may include the use of skilled volunteers who are trained, qualified and certified under an NPS-developed system. Volunteers will not be used during initial lethal reduction activities.
The NPS selected a deer management strategy for C&O Canal in June 2018. The park will conduct its first season of deer management in February and March 2019

More Information
Deer Management Plan/Environmental Assessment (April 2017)
FONSI - White-tailed Deer Management Plan and EA for C&O Canal and Harpers Ferry National Historical Parks

New Releases
National Park Service proposes plan to manage deer populations at C&O Canal and Harpers Ferry (April 2017)