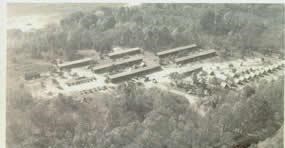 Opportunity for All? The story of the Civilian Conservation Corps on the C&O Canal
The story of Justice William O. Douglas' contribution to preserving the Chesapeake and Ohio Canal for future generations has been widely and justifiably told and retold. A lesser known story of contributions to the preservation of the canal dates some 15 years before Douglas' famous walk. It is the story of young men living in a struggling nation attempting to provide opportunity for all.
In 1939, if you stood where the Carderock picnic pavilion now stands just outside the I-495 loop, you would have been in the center of Camp NP-2-Md., the bustling home of nearly 200 enrollees of the Civilian Conservation Corps (CCC). Young men, between the ages of 17 and 25, lived here year-round as they worked to provide for themselves and their families while restoring the first 22 miles of the Chesapeake and Ohio Canal as a national park. As part of CCC Company 333, each enrollee received dress and work uniforms, was assigned a bunk in a barracks, and received three meals a day. The enrollee's daily life was commanded by reserve officers of the United States Army. Their work projects were supervised by the National Park Service.