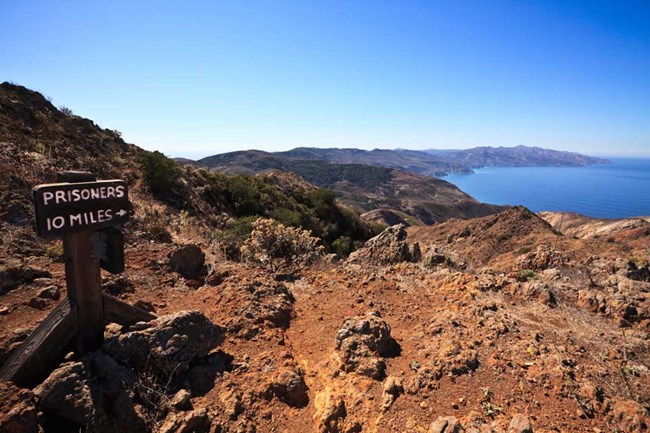 Click here to download a PDF site bulletin file of the text below with a map. This file requires Adobe Reader.

Del Norte is currently the only backcountry campground on Santa Cruz Island. It is nestled in a shaded oak grove and provides scenic views of the pristine coastline along the island. To reach this backcountry site, visitors will backpack along a historic ranch road/trail through a series of canyons and ridges, to a vista about 700 feet above sea level. This moderate to strenuous 3.5-mile hike from Prisoners Harbor travels through island oak woodlands and coastal sage scrub plant communities. A section of the trail meanders through thick stands of introduced fennel, a species targeted for removal in future restoration efforts planned by the park.
The National Park Service opened this backcountry site in recognition of its rare wilderness values. As you explore these wild areas, please take the responsibility to help us protect and preserve these delicate natural resources for future generations. The following information will help you enjoy your visit while leaving the smallest impact on the island.
WARNING: While backcountry camping is an incredible experience, it is not for the inexperienced backpacker. Due to difficult weather, rugged terrain, and off-trail hiking, backcountry camping is an arduous endeavor and should be undertaken only by experienced, well-conditioned backpackers.