Bicycling
Bicycling through the Platt Historic District allows the bicyclist to see and hear some of the smaller wonders of the park from a more intimate viewpoint. A paved loop road and a variety of trails offer good experiences for riders of all types and abilities. Bicyclists must be cautious and aware of changing trail conditions and pedestrian traffic, but bicycling allows outstanding outdoor experience in the park, unobstructed by a windshield.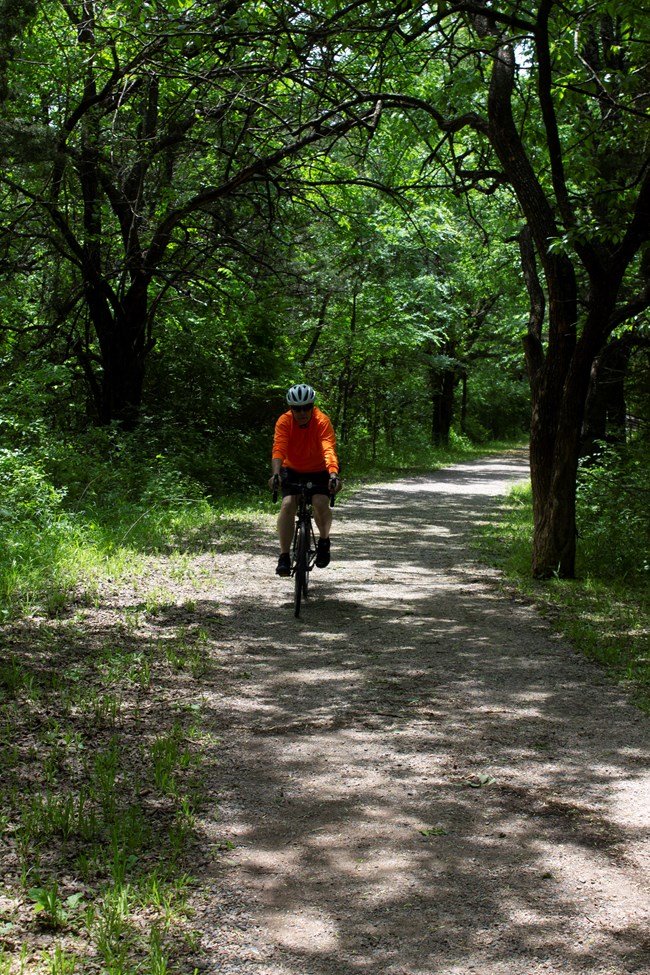 Share the Road and the Trails
Bicyclists must share the roads with vehicles and obey all traffic laws, including making full stops at stop signs, and travelling on the right side of the roads and in the direction of traffic on one way roads. Traffic is sparse in the fall, winter, and spring months and highest during the summer season. Use extreme caution during busy times. All bicycles must remain on paved and dirt roads or trails designated for bicycling. Cylists travelling on trails should be watchful for stairways, and should slow down to watch for hikers on and near curves.
Weather is pleasant much of the year and rewarding ride are possible most days of the year. Cycling from April to September is more of a challenge due to high temperatures; plan to take it easy when temperatures soar.
Areas closed to bicycles
Bicycles are not allowed on the trails east of the Travertine Nature Center. Cyclists should leave their bicycles at the bike racks in front of the building if they would like to walk those trails.

Bicycles are permitted on all trails west of the Travertine Nature Center, except on the switchbacks on Bromide Hill. Bicycles should be walked up or down the switchbacks if needed in order to get to other areas.
Last updated: February 22, 2021