Vendome Well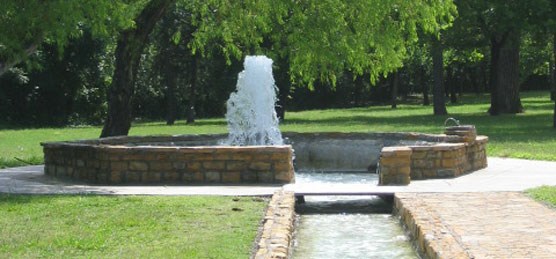 Vendome Well may be the best-known well in Oklahoma (more than 1.3 million people visit the park each year).
In 1922, the Vendome well, located adjacent to the northwest corner of Flower Park, was drilled. The well's prodigious outflow of 2,500 gallons per minute was directed in a stream (sometimes described as a ditch) running through the park and dumping into Rock Creek across from Black Sulphur Springs.
In 1935 the Vendome stream, previously a ditch, was redesigned by the Civilian Conservation Corps to create "the most distinctive attraction of the area," an "artificial creek" with two wading pools located along its length. The stream was given a new, more meandering course through the park and emptied into Travertine Creek where it created a waterfall.
In 1979, the Vendome Well property was acquired by the park. In 1998, the Vendome well was completely overhauled following the drilling of a new well about twenty feet west of the original well enclosure. The new well had a stainless steel casing to resist corrosion, and the water was piped to the center of the historic concrete enclosure.
The geochemistry of the Vendome Well

Vendome Well produces water from the aquifer at the boundary of the freshwater and saline water zones. Water samples collected as part of the Arbuckle-Simpson Hydrology Study reveal that water discharging from Vendome Well is a mixture of about 99 percent water from the freshwater zone in the Arbuckle-Simpson aquifer and 1 percent brine from the saline water zone. Vendome Well produces small amounts of hydrogen sulfide gas, which is often described as a "rotten egg" smell. Hydrogen sulfide is consistent with the water from Vendome Well including some amount of brine. The brine component of the water from Vendome Well is likely responsible for the large concentrations of several of the trace elements (potassium, fluoride, bromide, iodide, ammonia, arsenic, boron, lithium, selenium, and strontium) found in water from the well.
Water from Vendome Well was dated at about 10,500 years before present by using carbon-14. The age of water from most of the other water samples collected as part of the Arbuckle-Simpson Hydrology Study were less than about 60 years old. The old water at Vendome Well indicates that the water that discharges at the well flows along long flow paths deep in the aquifer; whereas, younger water flows along shorter flow paths at shallower depths.
Concentrations of dissolved argon, neon, and xenon in water samples were used to determine the temperature of the water when it recharged the aquifer. The recharge temperature of water samples from Vendome Well was 6.6 degrees Celsius (44 degrees Fahrenheit), too cold to be associated with present day temperatures. The colder recharge temperature is consistent with recharge from an earlier, cooler time period.
Last updated: February 24, 2015