Pavilion Springs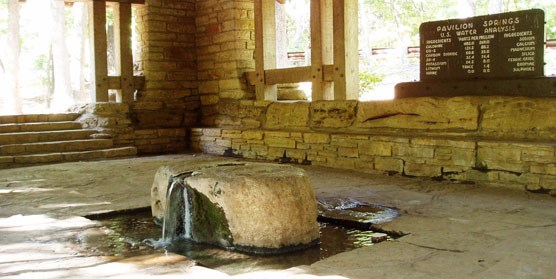 Spring Type: Mineral
Spring Status: Flowing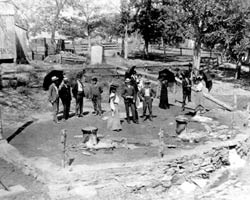 Pavilion Springs was once the center of the park, and the community of Sulphur Springs which preceded it. First known as the seven springs for the seven separate flowing vents that came together at this location, the springs were later renamed for the series of pavilion structures built over the springs beginning in the 1890s. The best known of the Pavilion Springs in the early days of the park was "Big Tom" which flowed at forty gallons per minute.
Early visitors to the springs found only an animal wallow which they called the "Buffalo Suck" because of the sucking noise bison made while drinking the water. One early resident placed a section of a hollow cottonwood log over Big Tom spring, allowing for easier collection of the flow, and other residents brought stone and dirt, which helped in constructing the basin. Later concrete vents were constructed over four of the springs.
In the 1930s, the Civilian Conservation Corps built a permanent pavilion, which visitors enjoy today.
U. S. Analysis—Pavilion Springs

Ingredients parts per million
Chlorine
482.0
Silica
24.4
Sodium
269.0
Potassium
24.2

CO-3

121.2
Ferric Oxide
8.0
Calcium
86.2
Bromide
1.4
Carbon Dioxide
60.4
Lithium
Trace
Magnesium
35.0
Iodine
0.0
SO-4
32.4
Sulphides
0.0
Last updated: February 24, 2015