Your Dollars At Work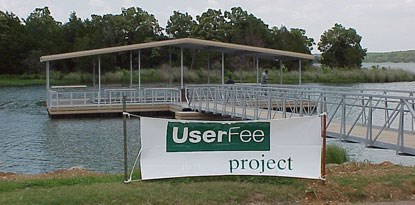 National park lands are not free. Protecting our natural and cultural heritage and providing a safe, enjoyable, and educational place to visit requires substantial funding. Although your taxes help offset the costs of operating parks like Chickasaw National Recreation Area, they do not cover all of the costs. As expenses to maintain and staff the parks rise each year, government funding is unable to keep up.
Chickasaw National Recreation Area is a participant in the Interagency Recreational Fee Program. The program authorizes participating parks to keep up to 100% of the fees collected. These funds have been, and will continue to be, used for maintenance, repair projects, public service programs, signage, and natural and historical resource preservation, as listed below.
The protection and enhancement of public lands is everyone's responsibility. Implementation of this program can only succeed with your continued participation and support. For additional information or comments, please contact:
Superintendent
Chickasaw National Recreation Area
1008 West Second Street
Sulphur, OK 73086
Last updated: February 24, 2015