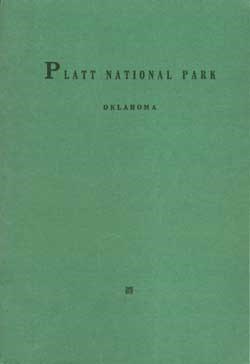 UNITED STATES
DEPARTMENT OF THE INTERIOR
Harold L. Ickes, Secretary
NATIONAL PARK SERVICE
Arno B. Cammerer, Director
PLATT NATIONAL PARK
Platt National Park in Southern Oklahoma shares with Hot Springs National Park in Arkansas the distinction of having been set aside because of the mineral properties of the waters. They were reserved by the national government to make the waters available without exploitation to all classes of visitors. Though many persons go to Platt to drink its healing waters, others are drawn by its recreational and scenic attractions.
The park is adjacent to the town of Sulphur, and extends in irregular form for a distance of approximately three miles from northeast to southwest along Travertine and Rock Creeks. The elevation varies from 920 to 1150 feet. The gently rolling area of the park offers a pleasing relief from the comparatively level surrounding country.
Most of the area is well wooded and traversed by picturesque streams with a number of springs, small waterfalls, and cascades. Travertine Creek, which flows through most of the Eastern end of the park, is a beautiful stream of clear sparkling water, fed by numerous springs. Rock Creek enters the park from the north, just below the principal entrance from the town of Sulphur, and Travertine Creek empties into it.
To the south of Rock Creek is "Bromide Hill", a steep wooded bluff 140 feet high. From the summit, known locally as "Robbers' Roost", easily reached by trail or road, there is a splendid view to the north and east, over the whole park and the town of Sulphur. Far in the distance to the southwest can be seen the picturesque Arbuckle Mountains and the Washita River Valley. The principal mineral springs of the park issue from the base of this hill.