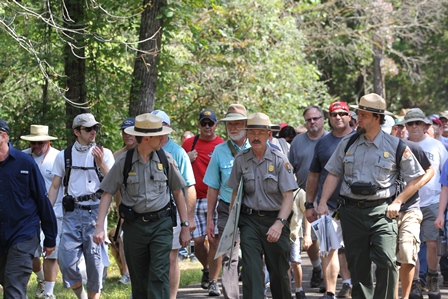 Ranger-Guided Tours - Summer 2017 (Beginning May 27, 2017)

Chickamauga and Chattanooga National Military Park offers a variety of regularly scheduled ranger-guided tours.
Chickamauga Battlefield
Car Caravan Tours – Daily at 10 am – Join a park ranger for a 90 minute to two hour car caravan tour of the battlefield. Car caravan tours provide a basic overview of the battle and typically last around two hours and begin at the Chickamauga Battlefield Visitor Center. You will drive your own vehicle in a car caravan, following a park ranger to various locations around the battlefield. At each stop, the ranger will share stories about what happened in that area. Car caravan tours do not require much walking, be prepared to stand for 15-20 minutes at a time.

Special Topic Programs – Daily at 2 pm – Our rangers have a wide array of expertise on the campaign for Chattanooga and the history of the battlefield. At 2 pm daily, join a park ranger for a program on a specific topic. These will range from longer battlefield tours to short hikes or living history presentations. Programs for the day are posted in the Chickamauga Battlefield Visitor Center.

Common Soldier Programs – Fridays, Saturdays, and Sundays at 9:30 am, 10:30 am, 11:30 am, 1:30 pm, 2:30 pm, and 3:30 pm. A living historian will present a program on the experience of a Civil War soldier.

There are no admission fees for programs at Chickamauga Battlefield.
Lookout Mountain Battlefield
Walking Tours of Point Park – Daily at 11 am, 2 pm, and 4 pm - hese are walking tours that typically last 30-45 minutes. Visitors walk with a park ranger along the paved path around Point Park and learn about the history of Chattanooga and the park. Programs begin just inside the gate at Point Park.
Common Soldier Programs – Fridays, Saturdays, and Sundays at 9:30 am, 10:30 am, 11:30 am, 1:30 pm, 2:30 pm, and 3:30 pm. A living historian will present a program on the experience of a Civil War soldier.
Cravens House – Saturdays and Sundays, the Cravens House is open from 1 pm to 5 pm. A ranger is available to do house tours during these times.
Admission to Point Park is $5 per adult, ages 16 and over. Admission to Cravens House is free.

Please be aware that these ranger-guided tours are subject to change or cancellation depending on staff availability on a given day. Information about programs for the day is posted at each visitor center.
Special Programs
Throughout the year, park staff offer a variety of special programs on specific topics or resources of the park. These might include living history demonstrations, guided hikes, lectures, or car caravan tours to specific parts of the battlefield. For a schedule of park special events this year, see our calendar for upcoming special programs.
Educational Programs and Field Trips
If you are a teacher, and are trying to schedule a ranger-guided program for your class field trip, please visit our Field Trips page.
Community Groups and Staff Rides

If you are planning a tour for a community group such as a Sunday School class, veterans' organization, or Sr. Citizens group, please contact us by email. For information about about scheduling a staff ride for a military group or ROTC program, contact the park historian.


Self-Guided Tours of Chickamauga Battlefield

There are several ways to explore Chickamauga Battlefield on your own. Using the park brochure, the park offers a free cell phone tour. At each of the eight highlighted tour stops, call 585-672-2619, and follow the prompts to listen to a recorded narration. You can also use a smart phone to visit www.chch.toursphere.com, to access this self-guided cell phone tour. Stanard carrier and data rates may apply. This cell phone tour is made possible through the support of the park's cooperating association, Eastern National.

The park's Eastern National bookstore also offers a variety of guidebooks and CD Audio Tours available for purchase. For more information, call the bookstore at 423-752-5212 extension 122.
__________________________________________
**Please note that all programs are subject to change based on weather and staff availability.**