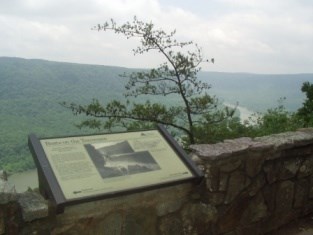 Signal Point: Communication From a Besieged City
As the Tennessee River cuts its way through the Cumberland Plateau, it divides the plateau into two distinctive mountains. Signal Mountain is located northwest of Chattanooga, while Raccoon Mountain is located to the west. Located atop Signal Mountain, Signal Point overlooks the Tennessee River between Signal and Raccoon Mountains. It was practically the only high ground in the area controlled by Union troops during the siege of Chattanooga between September and November 1863. Union soldiers used Signal Point to communicate with the outside world by creating a complex signaling system on portions of high ground along the Tennessee River. Signal Point was the key station receiving and sending messages from the besieged city to Bridgeport, Alabama, thence by telegraph to the North. Once Union forces opened the supply line to the city from Brown's Ferry on October 27, 1863, the signal station at Signal Point was primarily used for observing and reporting Confederate troop movements in the area.
Today Signal Point is a popular hiking destination. In addition to scenic views of the Tennessee River, Signal Point Reservation is an access point for the Cumberland Trail, which stretches several hundred miles across the Cumberland Plateau. The Signal Point Reservation is located on Signal Mountain, Tennessee at the end of Signal Point Road. There is parking available, and restrooms are open seasonally in the spring, summer, and fall.