News Release
Music Under the Stars Concerts in June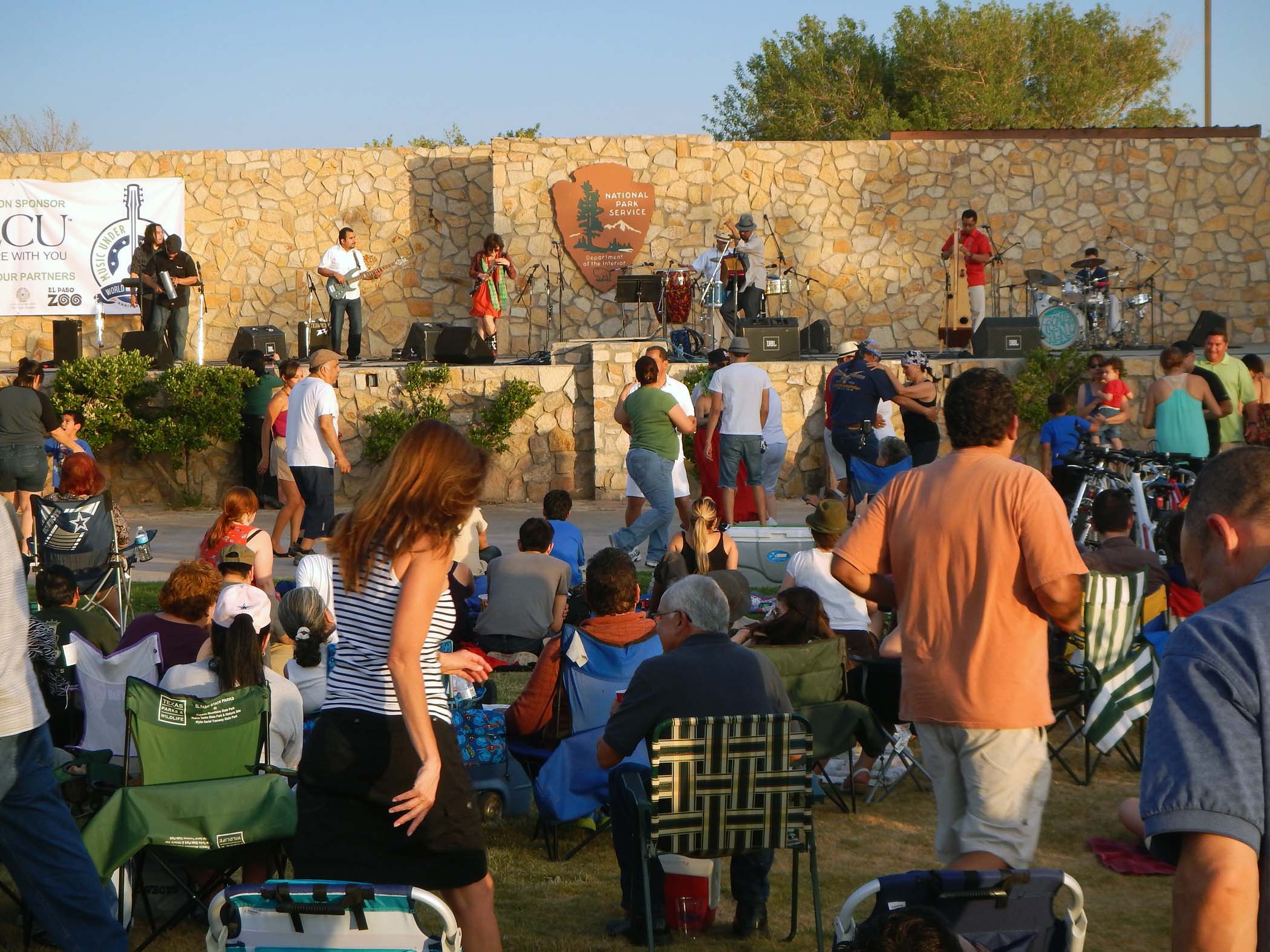 News Release Date:
May 31, 2018
Contact: Anne Doherty-Stephan, 915-532-7273 ext.124
The National Park Service is pleased to continue its long-running partnership with the City of El Paso's Museums and Cultural Affairs Department (MCAD) to host the annual Music Under the Stars concerts during the month of June. The four concerts hosted at the Memorial will start this coming Sunday, June 3 at 7:30 p.m.
Before each concert at Chamizal National Memorial's information tent, park rangers will host free Junior Ranger Programs from 7 – 730 p.m. with activities for children ages 5 – 11 years old. There will be a different program each week so come join the fun! Please note that there will not be a Saturday morning Junior Ranger Club in June.
This summer's concert series will feature a variety of musical styles as selected by MCAD.
June 3: Fixed Idea performs a fusion of reggae, cumbia, and ska styles.
June 10: Sangre Gitana performs flamenco rumba numbers.
June 17: Kikimora performs neo-soul music.
June 24: Flor de Toloache performs ranchera style music.
Superintendent Sanchez reminds concert-goers and other park visitors of the following rules for safe and fun family events at the Memorial:
No outside alcohol is permitted from June 1-August 31 each year; there will be park-authorized vendors selling alcohol, food, and other refreshments during concerts. All coolers and ice chests are subject to search. Please be sure to have a designated driver and remember to drink plenty of water to stay hydrated in the summer heat.
No pets are allowed on concert day afternoons through evenings for the safety of the animals as well as park visitors.
Glass containers are never permitted on the grounds.
No personal fireworks are allowed.
Grills are not permitted in the concert area surrounding the amphitheater but are allowed in other areas of the park. Please dispose of coals only in designated containers.
Running, kicking, and throwing games as well as bicycling and smoking are not permitted in the concert area but are allowed in other areas of the park.
Shade structures and umbrellas are permitted in the concert area but must be taken down before the concert begins.
Chairs and blankets are welcomed.
Thank you for your consideration of other visitors. We look forward to seeing you!
For the complete 2018 Music Under the Stars season schedule and to find information about parking and shuttle options, please refer to the MCAD website, www.elpasoartsandculture.org, or call 915-212-0110.
Visit our Music Under the Stars page or call 915-532-7273 for more information.
Chamizal National Memorial: El Paso's national park, where history and culture come to life.
Last updated: May 31, 2018