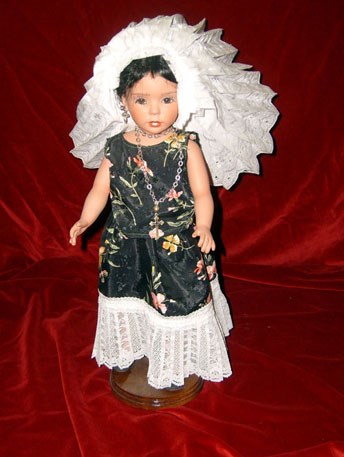 Capital: Oaxaca
The sleeveless flowered huipil (tunic) covers a skirt with a broad heavily starched white eyelet flounce around the hem. Another perfectly matched, pleated flounce frames the face. This distinctive headdress - called a huipil grande, resplandor or bidaniro - was actually a child's baptismal gown and is worn by the Istmenas, women from the region of the Isthmus of Tehuantepec.
The state of Oaxaca is the site of numerous extremely diverse indigenous groups. Some are related, but all have distinct differences in language and customs. A partial list of the principal groups - distributed throughout the seven regions of Oaxaca, from remote mountain areas to the coast - includes Chatinos, Chinantecos, Cuicatecos, Huaves, Mixes, Amuzgos (some groups are from the state of Guerrero), Mixtecos, and Zapotecos. The language barrier is immense. The Zapotecos alone have more than 20 variations of their language - at times, they struggle to communicate among themselves. In many parts of the state, agriculture is still rustic and many people move to large cities to find employment.
Oaxaca is one of the most mountainous states in Mexico, traversed by three great sierras: the Sierra Madre del Sur, the Sierra Madre Oriental - also known as the Sierra de Oaxaca - and the Sierra Atravesada. Rushing rivers and high mountains combine to create beautiful waterfalls and the narrow passages of the Oaxacan canyons. The Chimalapas forest is home to a large variety of plant and animal species.
Oaxaca is one of Mexico's largest producers of mango and coffee. Other major crops are corn, beans, sugarcane, lemon, orange, alfalfa, barley, avocado, pineapple, rice, cantaloupe, watermelon, maguey, and tobacco. The state produces a significant amount of gold annually and its mines and quarries also yield silver, lead, copper, zinc, graphite, stone, and marble.
Each year, sea turtles visit Oaxaca's shores en masse as a critical part of their life cycle. With their flippers, they scoop out a bit of beach, lay their eggs, bury them, and return to the sea. These animals, an officially protected species since 1990, are in danger of extinction due to the trafficking of their eggs and exploitation of the adult turtles.
Oaxaca is home to many extremely creative and skilled artists, including well-knwon painter Rufino Tamayo. Oaxacan handicrafts include indigenous dresses, clay pottery, furniture, and other articles made from palm, wood, leather, and other materials that the indigenous people use in their daily lives.
Many Africans entered Mexico through what are now the southern states, including Oaxaca, before migrating throughout the country. Traces of African influence appear in everything from music - the marimba, for example, so popular in Mexican music, has its origins in Africa - to the mulattos, people of mixed race.
Did you know...?
The name Oaxaca comes from the Nahuatl word hauxyacac, which means "on the nose or on the crown of the guaje tree" - a tree with bright red pods which used to flourish in the area.