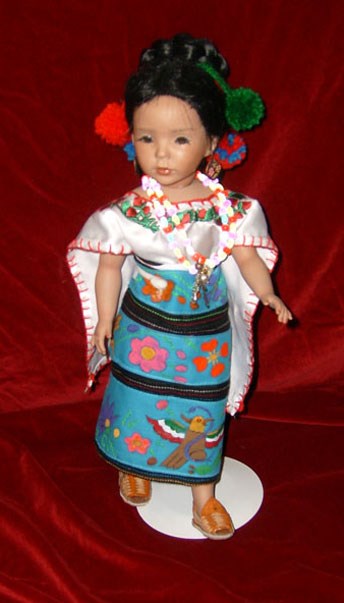 Capital: Chilpancingo
The huipul (tunic) of rustic fabric is decorated with bright, embroidered flowers and birds across the yoke. The deep blue pozahuanco (wrap-around skirt) is adorned with bold red zigzags. The braided, ornamented hairstyle is called a tiacoyal. This costume, called a teconceutl, is typical, daily attire for the Nahua Indians. It might appear in the city of Chilapa, an important commercial center, where the Nahua attend Sunday market carrying tecolpetes (baskets) filled with turkeys, beans, chile, corn, bananas, pineapples, palm, reeds, wood, and wool. They also sell beautiful embroidered costumes made by craftsmen in Acatlán.
Guerrero is one of the most mountainous states in Mexico. It looks like an enormous jigsaw puzzle, combining peaks, ravines, plains, beaches, and cliffs. The Sierra Madres del Sur and the Sierras del Norte dominate the landscape. The radical terrain allows waterways to fill low-lying basins. Cyclones, know as tapaquiahuitl in some places, are common, producing abundant rainfall to support agriculture and livestock in the interior valleys.
Guerrero's Pacific coastline with its tropical forests, lagoons, and mangroves offers not only a fisherman's dream, but also a tourist's mecca. The Triangle of the Sun, formed by Acapulco, Ixtapa-Zihuantanejo, and Taxco, is visited by thousands of Mexican and foreign tourists annually. Guerrero's archeological sites like Teopantecuanitlán and Paso Morelos also attract many visitors.
Opened to the world in the 16th century, Acapulco was quite possibly the first commercial maritime port between America and Asian, and became Mexico's first world-famous tourist destination.
Taxco, a famous mining center and Guerrero's leading silver producer, is said to have been built on a mountain of silver.
Many of the soccer and volleyballs used throughout the world are made in Chichihualco, Guerrero.
Like many of Mexico's southern states, Guerrero was a point of entry for many Africans who then migrated throughout the country, influencing the culture, as did the indigenous people and the Europeans. Traces of African influence appear in everything from music -- the marimba, for example, so popular in Mexican music, has its origins in Africa - to the mulattos, people of mixed race. Mexico's War of Independence from Spain was fought by Indians, mestizos, and mulattos.
Did you know...?
The state of Guerrero was named in memory of the southern leader, Vicente Guerrero Saldaña, a mulatto, who took part in the independence movement. After the death of Hidalgo and Morelos, Guerrero kept the liberation struggle alive in the southern mountains, until finally achieving independence in 1821. As Mexico's second president, Guerrero officially abolished slavery in Mexico in 1822, though it did not actually end until 1829.