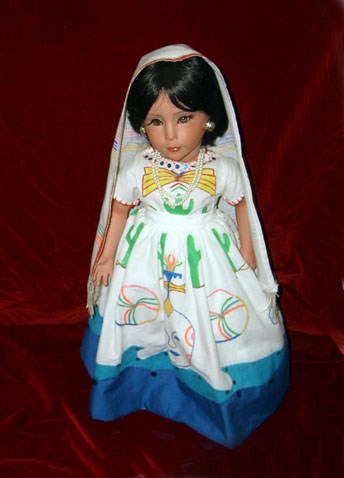 Capital: Mexicali
Petra Rosales: "When the territory of Baja California became a state in 1952, the government held a contest to determine the official costume. On September 16, 1954, the design by Maria de la Luz Pulido, was selected."
The elements of Baja California are reflected in the multicolored fish, shells, cactus, ad indigenous masks which adorn the blouse and skirt. The peninsula's colors are captured in the turquoise rebozo and the crisp white expanse of skirt that drops into cool blue curves of surf around the hem.
With 12 percent of Mexico's total coastline, Baja California enjoys a wealth of fishing, as well as the lucrative industry of salt extraction. What looks like an immense white desert in Guerrero Negro is actually hundreds of shallow tanks filled with seawater evaporating in the hot sun. The salt left behind is purified and processed for use as table salt and in food preservation. (Machaca,salt beef, is a common dish in northern Mexico.) Other uses for salt include smelting and refining, and the manufacture of soap, detergent, fertilizers and insecticides.
A mountainous zone runs down the center of the state, and what little rain falls, quickly dissipates in the blazing summer heat. Despite limited fresh water, Mexicali produces an abundance of grains, vegetables and fruit. Aviculture (poultry breeding) is also an important part of the economy.
Some 40,000 years ago, people from Asia crossed the Bering Strait to North America. They traveled south, wandered the Baja California peninsula, and eventually reached the highest mountain of the central region. In the caves and protected spots of this rocky terrain, these earliest immigrants held rituals, and commemorated their lives with some of the most beautiful cave paintings in North America.
The Kiliwas are indigenous to Baja California; however, they are among the many extremely diverse groups and obscure subgroups that make up Mexico's indigenous population, each with a different language and dialect.
Did you know...?
At the turn of the century, the first Chinese arrived in the area, many as laborers for an American project: the construction of an extensive irrigation system in the fertile Valle de Mexicali. The struggles of these Asian arrivals left their mark on Mexico. A 656-foot high peak in Baja California's San Felipe Desert bears the name El Chinero in memory of a group of Chinese who died trying to cross the valley in search of work. The desert itself was once known as El Desierto de los Chinos, Desert of the Chinese. Today, Mexicali has the highest per capita concentration of Chinese residents in the country.