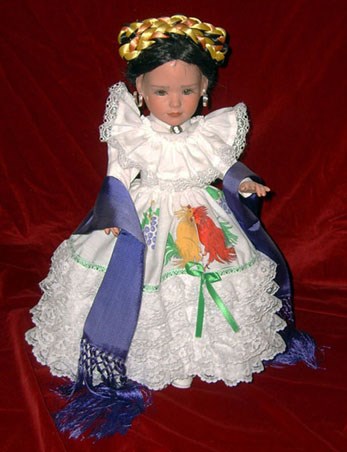 Capital: Aguascalientes
Aguascalientes is one of the smallest of the Mexican states, but this distinctive costume rises like a centerpiece from the very heart of Mexico.
The high-necked, long-sleeved white blouse reflects Victorian influence, and the full skirt is layered with lace flounces topped by a single green ribbon. The apron is adorned with a pair of bold fighting cocks and a brilliant cluster of grapes, reflecting the state's connection to the land. Long braids, interwoven with orange and yellow ribbons, are worn up in the traditional style, secured by bright bows.
With ideal climate and soil conditions, Aguascalientes agriculture yields tons of fine grapes annually, producing delicious raisins, grape juice, and excellent table wines.
The state is also known for exquisite handmade articles: extraordinarily beautiful openwork on blouses, dresses, handkerchiefs and tablecloths.
The northwestern part of the state is mountainous and heavily forested. Southwestern areas are used for cattle and dairy production, while the central and southeastern lands are dominated by agriculture. The state is known for its fine horses and fighting bulls.
Aguascalientes' main tourist event is the annual Feria de San Marcos (San Marcos Fair), where it is said the first cock fights took place. Other attractions include grape and guava fairs, bullfights, parks, gardens, and museums.
On December 10, 1914, in the Morelos Theater in the capital city of Aguascalientes, the Plan de Ayala -- a precursor to the 1917 Mexican Constitution -- was first accepted at the Sovereignty Convention of Aguascalientes.
Did You Know...?
Aguascalientes means "hot waters" and is named for the hot springs, which first drew the Spaniards to settle there in 1565. The named the settlement Villa de Nuestra Señora de la Asunción de las Aguas Calientes (Our Lady of the Assumption of the Hot Springs) which was later shortened to Aguascalientes.