Winter Access
Cedar Breaks National Monument is open year-round, though accessing the park changes with the seasons. Beginning around mid-November each year, Highway 148 and the scenic road through the park (Rim Road) are closed due to snowfall. Highway 143 which enters the park at the north and east entrances is plowed during daylight hours during the winter. These conditions continue until mid to late May each year.

There are three primary locations to park when accessing the park during the winter. The two primary parking areas provide access for all users including snowshoers, cross-country skiers, and snowmobilers.
Junction of Highways 14 & 148
Drive on Highway 14 from Cedar City or Duck Creek Village to the junction with Utah Highway 148. A plowed parking lot is maintained at this junction (except during and immediately after snowstorms). Highway 14 is kept open all winter but accessing Cedar Breaks National Monument from this direction requires traveling further distances by foot or snowmobile.
From Highway 14 Junction to Point Supreme Overlook: 3.5 miles
Brian Head Town
There are several places within Brian Head to park and hike or snowmobile into the park. Please check with local officials for parking rules and limitations.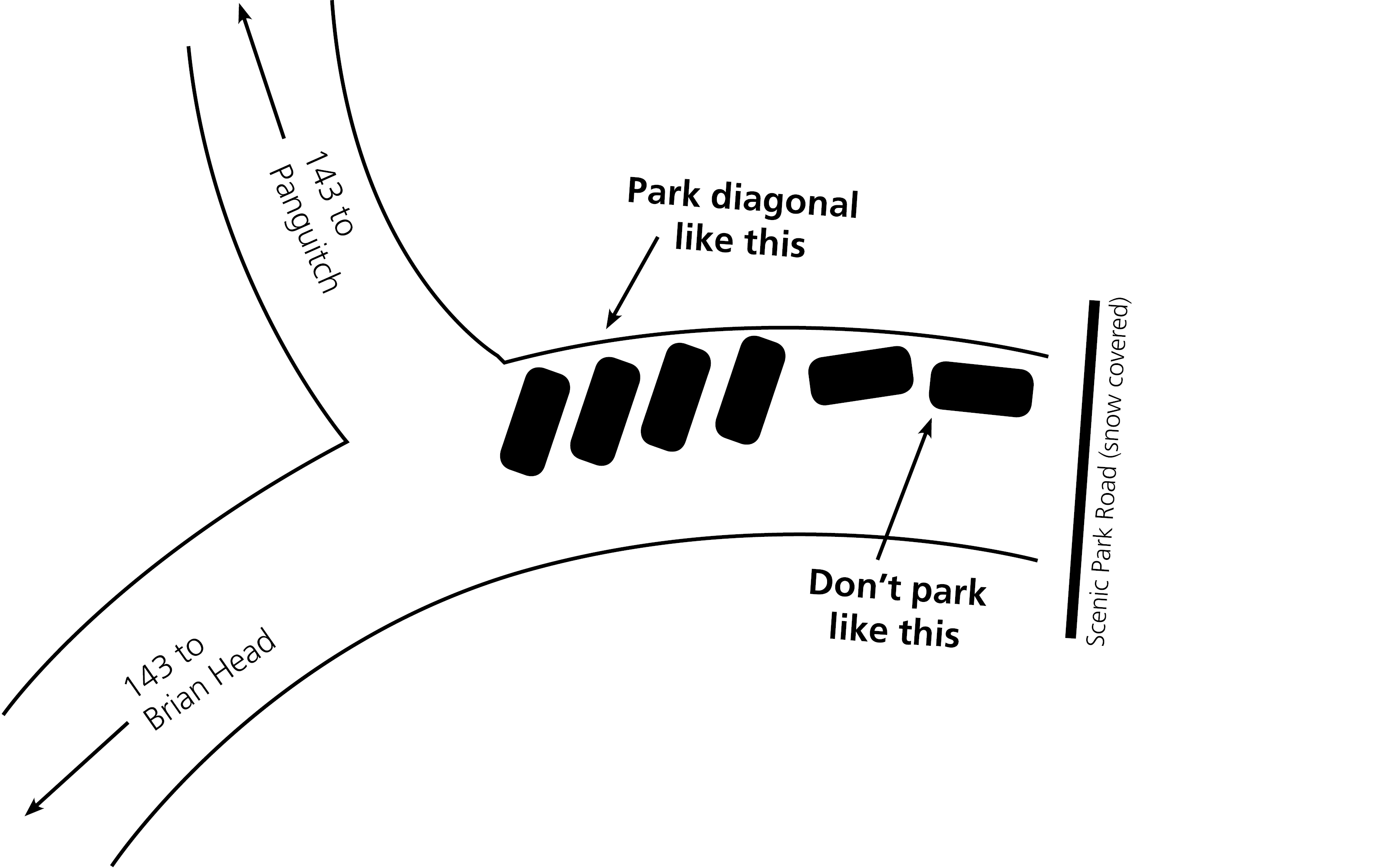 Junction of Highway 143 & Park Road
Drive on Highway 143 through Brian Head to the junction with Park Road. A plowed parking area is maintained at this junction. Due to the limited space, trailers are not permitted in this parking area and cars should park diagonally as shown to the right.

Be aware that during and immediately after heavy snowstorms Highway 143 and the parking area may be temporarily inaccessible. Snow tires and/or chains are required on this road generally from November 30 to March 1.
From Highway 143 Junction to Point Supreme Overlook: 4.1 miles
State Route 148 Conditions

Utah Department of Transportation's website with road conditions, closures and webcams.

Ski & Snowshoe

Cedar Breaks is an excellent place to ski or snowshoe during the winter.

Snowmobile

Learn about snowmobiling opportunities at Cedar Breaks during the winter.
Last updated: March 18, 2021