Pets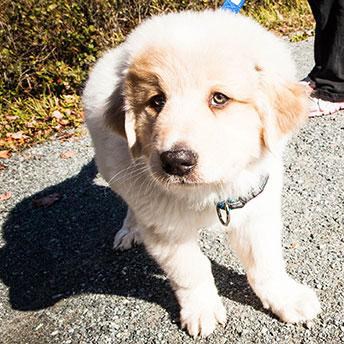 Pets are members of our families and often tag along on vacation. There are a few rules for the protection of your pet and wild park animals to be aware of before coming to Cedar Breaks.
1. Pets must be on a leash no longer than 6 feet, under physical restraint, or caged at all times (including while in open-bed pickup trucks.)
2. Pet owners must pick up after their pets and dispose of waste in a trash receptacle.
3. Pets are allowed on the sunset and campground trails. These trails run between the Information Center and end at either the campground or Sunset Overlook. Pets must be on a leash at all times. They are not allowed on the Spectra/Ramparts Trail, the Alpine Pond Trail or inside the Visitor Center.
4. Pets are allowed on all paved areas, which includes all of the overlooks located throughout the Monument.
5. Pets are allowed in the campground, but must be leashed at all times.
6. Owners must not allow pets to make unreasonable amounts of noise.
7. Pets are not to be left tied to objects while unattended.
8. Clearly identified service animals ARE allowed on all of Cedar Breaks' trails and inside buildings.
Last updated: November 14, 2017