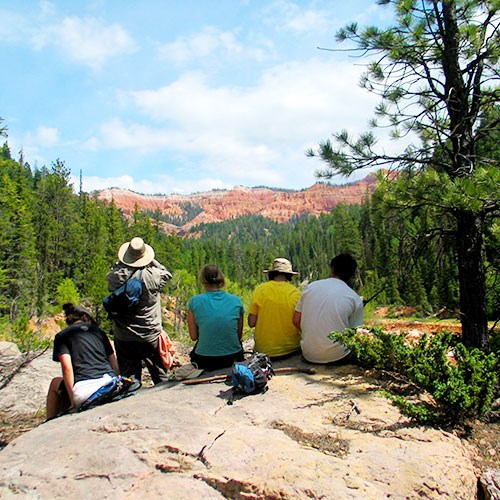 Eating
Picnicking
Visitors are welcome to Picnic in the area near the Point Supreme Campground.
Our picnic area has tables, and restrooms (during the summer season.)
Overnight camping is not allowed in the picnic area.
Camping stoves and self-contained charcoal grills may be used to prepare food at the picnic area. Wood campfires are allowed only in designated fire grates.
The picnic area has potable water (during the summer season.)
Help us keep Cedar Breaks beautiful by throwing away all your trash.
Please do not feed wildlife.
Driving or bicycling on grassy areas (meadows) is strictly prohibited.
Restaurants and Dining
Food services are not available at Cedar Breaks National Monument, but can be found in the surrounding areas.
Brian Head Town (2 miles northwest on Hwy. 143) is the closest place to find prepared food and groceries.

Duck Creek Village is approximately 30 minutes southeast on Hwy. 14 and has food as well as gasoline.

Cedar City is 30 miles west on Hwy. 14 and offers a wide range of restaurants from fast food to fine dining.
Panguitch and Panguitch Lake are also options if you are continuing on Hwy. 143 to Bryce Canyon or Capitol Reef.