Animals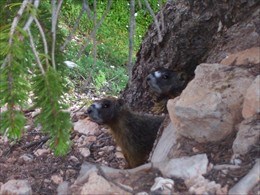 Elk, mule deer, mountain lion, and black bear are the park's dominant large animals, although sightings of mountain lions and bears are rare. The higher elevationsprovide habitat for the pika, marmot, badger, and porcupine. Middle elevations support gray fox and coyote. A large number of rodents and birdsarealsopresent,including the Colorado chipmunk, golden-mantled ground squirrel, pocket gopher, golden eagle, Clark's nutcracker, common raven, violet-green swallow, and white-crowned sparrow. Peregrine falcons have been seen nestingjustoutsidetheparkto the north and some have been observed in the park. An official species list is available from the Northern Colorado Plateau Network.
In these few pages you will find information on the animals that inhabit Cedar Breaks.
Please remember that it is a violation of federal law to feed any wildlife in the park and surrounding areas. Be mindful that some of these animals may be seen on or near the roads and trails and should not be approached as they may be dangerous.
Last updated: February 14, 2019