Volunteer

Cedar Breaks National Monument depends on dedicated volunteers to perform duties and complete projects that we simply could not do without them. Each year, thousands of hours are donated by hundreds individual volunteers. From overseeing campgrounds, building trails, caring for native plants to welcoming our winter guests, our volunteers help protect our valuable resources and help visitors learn about and safely enjoy the many aspects of Cedar Breaks.
Current Volunteer Opportunities
Reoccurring Volunteer Opportunities at Cedar Breaks
If you are interested in any of these volunteer positions, use the links above or in the discriptions below or
contact us for more information.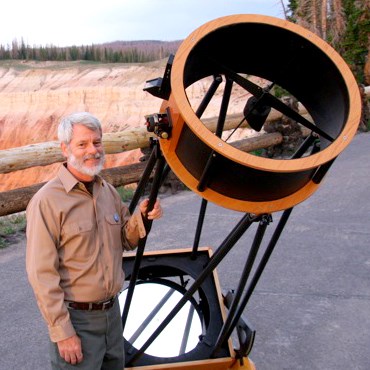 Summer Astronomy Volunteers
Cedar Breaks National Monument regularly seeks enthusiastic astronomy volunteers (Astronomy VIPs) for the summer season. Come be part of an enthusiastic team dedicated to preserving our dark night skies for future generations!
Cedar Breaks is seeking volunteers who are willing to commit to at least four weeks of service (shorter term or intermittent volunteers are also needed, but no housing will be provided) during one of the following time periods:
Memorial Day - early July
mid-August – mid-September.
Exact start and end dates are negotiable. No stipend is provided but free housing is available. A free RV site with hookups may also be available. All volunteers will receive training on the monument and its resources, a uniform, and the satisfaction of helping educating the public about the night sky and how to protect it.
Learn more about what it takes to be a Summer Astronomy Volunteer
and/or
Download a PDF of the Summer Astronomy Volunteer Application.
(First download, and then fill out the application. Do not try to enter information while viewing in your web-browser.)
Or Download the Astronomy Volunteer Application in Microsoft Word.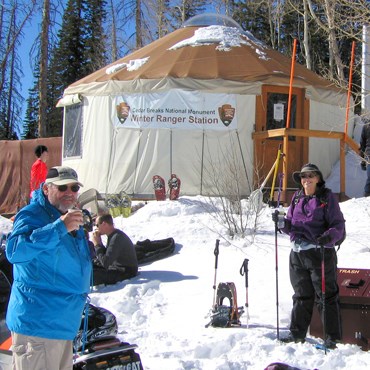 Winter Warming Hut Host
Cedar Breaks is seeks winter loving volunteers to assist with our winter warming hut (an insulated yurt with wood stove) operations in the monument weekends and holidays from December through March.
Responsibilities include opening/closing the yurt, snow removal, welcoming visitors and answering their questions, recording visitor statistics, heating water for cocoa, maintain winter trail markers, assisting with winter emergencies and enjoying the Cedar Breaks winter wonderland.
Volunteers must be able to snowshoe or cross-country ski 1 mile into the yurt and back out. We can supply snowshoes, but not skis. Volunteers may also snowmobile into the yurt, but must be able to snowshoe or ski to maintain markers and provide visitor assistance if needed. The warming hut is located at 10,000 feet.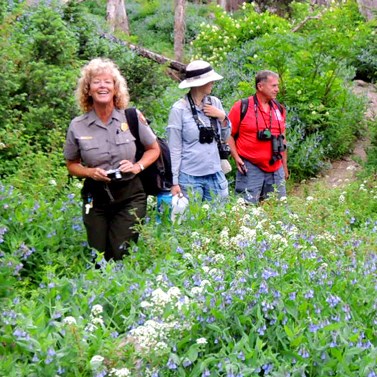 Wildflower Walk Guide
During the annual Wildflower Festival, volunteers lead daily walks for visitors to highlight the latest blooming flowers, run educational booths for a variety of age groups, and assist visitors by answering questions about the park and surrounding area. Volunteer applicants must be willing commit helping at least two days during the festival. Wildflower identificaiton training will be provided. (Time commitment = Around 20 hours during Wildflower Festival, beginning usually the 1st or 2nd week of July.)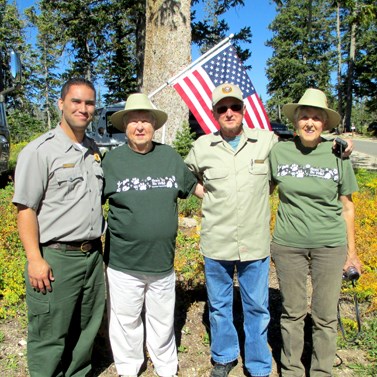 Campground Host
Durring the summer season, Cedar Breaks needs campground hosts to greet campground visitors, inform them of campground rules and provide information and assistance, if needed.
A campground host usually resides in their own RV at the campground they are hosting, and are typically responsible for; Greeting guests, Preparing weekly revenue and attendance reports, Helping guests solve problems, Cleaning exterior and interior facilities (particularly bathroom buildings), Some light maintenance


Last updated: January 20, 2017