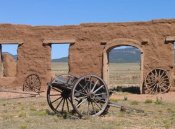 Fort Union National Monument
(505) 425-8025
Distance from Capulin Volcano: 126 miles
Fort Union was established in 1851 as the guardian of the Santa Fe Trail. During its forty-year history, three different forts were constructed close together. The third Fort Union was the largest in the American Southwest, and functioned as a military garrison, territorial arsenal, and military supply depot for the southwest.