West Hiking Trails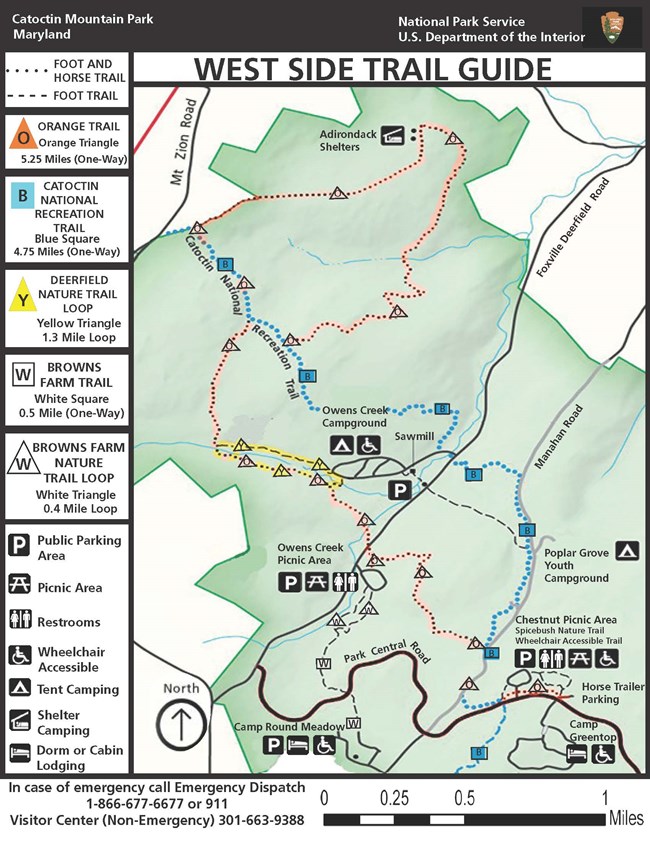 West Side Trails
The west side of the park is the wilder side. Adventurous hikers are more likely to see wildlife, wetlands, and an up-close view of nature. Remnants of former farms dot the landscape. The park's picnic areas, campgrounds, and back-country shelters connect with the trails.
The Catoctin National Recreation Trail and the Horse Trail dominate the west side. Hikers may use the Catoctin National Recreation Trail to access Cunningham Falls (~2 miles from the Chestnut Picnic Area).
---
Tips for Planning Your Trip
Bring a daypack with food and water. No matter what season, visitors should always bring water when hiking.
Hike with a friend (buddy system). Dogs need to be on leashes at all times.
Wear sturdy hiking shoes. Sandals are not recommended.
Be aware of the weather! Check the weather forecast before you leave your house and plan accordingly (i.e. rain gear if possibility of rain). Wear layers of clothing to add or take off as the weather and your body temperature change.
Be aware of the trail and fauna (such as snakes and bees) on the trails. Avoid deviating from the trail and getting lost. This helps us protect the resources by limiting our impact on the forest. If wildlife is encountered do not taunt, touch or feed, and enjoy watching from a safe distance.
Be very careful at overlooks and rock formations to avoid slips and falls as the rocks can be slippery and the formations have long, deep crevices that can cause injury or death.
Leave No Trace. We are a trash free park. Everything brought in needs to leave with you.
Leave wildflowers and other flora for all to enjoy.
Be aware that cell phones may not work in all areas of the park and many service providers do not work at all. Test your phone for coverage.
If you or someone you are with is injured report it to the first Park Ranger you encounter. (Emergency dispatch phone number: 1-866-677-6677).
Remember, walking/hiking estimated time varies on hiking ability and pace. Finally, have fun, be safe and have an adventure!
Last updated: November 21, 2020