Training Innovations
In the field in front of the mess hall at B-2 there were several pieces of training equipment. There were ropes for hand-over-hand climbing, and a football tackling dummy. An 8-foot wooden platform was erected over a sand pit. This piece of equipment was used to practice parachute jumping and landing. Several large open saw-dust filled pits were used to practice close combat exercises such as ju-jitsu, wrestling, and knife fighting. One of the executive officers designed a piece of equipment that was called the "Trainazium." It was constructed from a dozen large oak trees approximately 15 to 18 inches in diameter. The trees were harvested from within the Catoctin Recreational Demonstration Area much to the dismay of Park Manager Mike Williams. Underneath the 18-foot tall structure, safety nets were installed to catch fallen trainees. The recruits learned to maneuver and walk in narrow spaces, allowing for improved strength and dexterity. The 20 ft. x 20 ft. rectangular structure was located in front of the mess hall in B-2.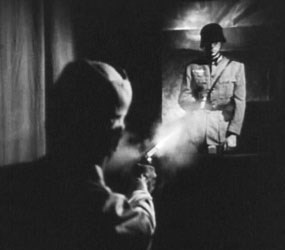 The House of Horrors
A pistol range was initially constructed at B-2 for firing .45 Colt automatic and other pistols. The range had pop-up targets of enemy soldiers. Students were instructed how to fire a pistol using a special quick firing method from the hip called "Point and Shoot."
Another unique Office of Strategic Services (OSS) training structure at B-2 was the "Pistol House." It was also known as the "Mystery House," "House of Horrors," and the "Haunted House." At a cost of $6,000 it was the most expensive structure built by the OSS. The house was located where the stable is today in Camp Greentop. It was designed by British Special Operations to teach close shooting practice under realistic conditions. Trainees were sent into the house with an instructor and were armed with a .45 automatic pistol. The house simulated a building that was occupied by Nazis and the interior was kept completely dark. The floors in the house were unstable and included frequent drops. There was a hidden phonograph that played realistic sounds including men speaking German. As they moved through the house they encountered Papier-Mâché Nazis with pistols.
Actual footage from OSS training videos produced by John Ford.

Duration:

4 minutes, 24 seconds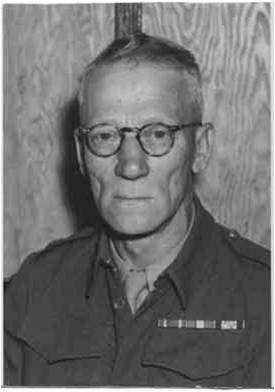 Get Tough
One instructor of special note on loan from the British government was William "Fearless Dan" Fairbairn. The former British official instructed agents on hand-to-hand combat techniques. His form of "gutter fighting," later known as the "Fairbairn Technique," was a combination of ju-jitsu and street fighting. He was an expert in disarming the enemy and "silent" killing techniques. OSS agents favored his specially designed double-edged dagger. In his 50s, Fairbairn is seen in several OSS instructional films training recruits at B-2.
Actual footage from OSS training videos produced by John Ford.

Duration:

3 minutes, 52 seconds
Last updated: November 25, 2015