Sandburg Summer Stage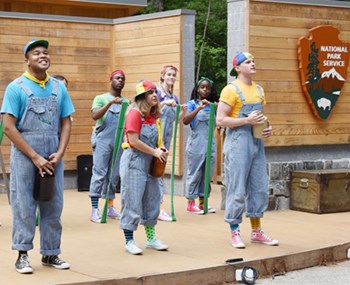 2021 Season Cancelled
Young visitors can earn a virtual Jr Rootabaga Ranger badge by watching a clip from a performance here.

---

We hope to bring the shows back in 2022!

Free public performances of Rootabaga Express! and Spink, Skabootch and Swipes. These 30-minute programs feature the cast and directors from The Vagabond School of the Drama, an apprentice program of the Flat Rock Playhouse. Performances are held rain or shine, at the new park amphitheatre near the front lake.
Spink, Skabootch and Swipes - Wednesday and Friday Mornings
Take a journey with Sandburg's daughters, Spink, Skabootch and Swipes (his loving nicknames for them) on a journey through Rootabaga Country. Discover how the letter X made its way in the alphabet, hit the rails with the Great Golden Spike Limited as it speeds from coast to coast and marvel at how Hot Balloons and his two pigeon daughters crossed the Shampoo River!
Rootabaga Express! - Thursday and Saturday Mornings
Carl Sandburg created his own version of American fairy tales when he published Rootabaga Stories (1922) and Rootabaga Pigeons (1923). He replaced the European fairy tale cast of princes, princesses, castles and kingdoms with icons American children would recognize -- taxi-drivers, movie actors, skyscrapers, prairies and automobiles. Rootabaga Express! brings the stories of the Five Rusty Rats, Bimbo the Snip and more to life.You'll meet new characters and journey farther into the Village of Liver and Onions and Sandburg's imagination than ever before.The 30-minute shows are appropriate for all ages and held rain or shine.
These shows are supported by the Flat Rock Playhouse and the park's bookstore, America's National Parks.
Apprentice actors from the Flat Rock Playhouse have performed adaptations of Sandburg's works for park visitors since 1974. Using Sandburg's own words from his collections of children's stories, poetry, folk music, biography of Abraham Lincoln and his own autobiography, more than enough material is available to provide visitors with a sense of the scope of his work and his imagination. Sandburg was an expert storyteller, and easily wove important messages of fairness, empathy and social justice into his writings. Whatever play you are able to attend you will walk away with a smile on your face and a better understanding of the legacy of Carl Sandburg.
Last updated: April 12, 2021