Carl Sandburg Music Festival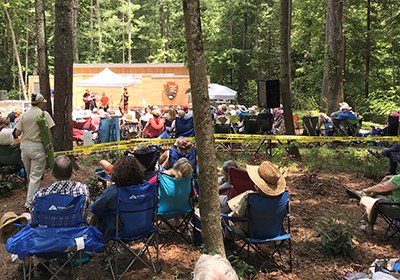 The Carl Sandburg Music Festival is held every year on Memorial Day.
This free festival will be held at the amphitheater and barnyard areas of the park. Seating is available, and visitors are welcome to bring their own lawn chairs. Due to expected large crowds, pets will not be allowed at performances.
2022 Schedule
Amphitheater:
11 am - Peter Dimery Trio (Jazz)
Saxophonist Peter Dimery, originally from the coast of South Carolina, has become an in-demand soloist along the eastern seaboard. His jazz trio features two renowned veterans of the western North Carolina and upstate South Carolina music scene, drummer Jason DeCristofaro and bassist Shannon Hoover.

2 pm - Mark Webb, Jr (Americana)
As a singer-songwriter Mark carries a tender voice and unique timbre that embodies real Americana. Taking inspiration from life experiences, overheard conversations, and current events, he writes and curates songs that echo the cuts, bruises, and blossoms of life. He has shared the stage with musicians such as American Aquarium, Turnpike Troubadours, Jill Andrews, Justin Townes Earle, and more.
Barnyard:
1-3 pm Patrick Ballard (acoustic guitar/banjo)
Patrick has performed all over western North Carolina, eastern Tennessee, and Georgia. He plays eight instruments and performs primarily as a volunteer at care centers. He has more than 40 years of musical experience.

Sandburg Home Tours on Memorial Day
As part of the one-day festival, free tours of the Sandburg Home will be available at 10 a.m., 11 a.m., 12 p.m., 1 p.m., 2 p.m. and 3 p.m. Tickets are first come, first serve, from the Visitor Center/Park Store beginning at 9:30 a.m. The Visitor Center/Park Store is located on the ground floor of the Sandburg Home and will be open from 9:30 a.m. to 4:00 p.m. on Memorial Day. For information on other house tour days, click here.


Parking
There are three parking options available: the Main parking lot, located on Little River Road across from the Flat Rock Playhouse; the Flat Rock Playhouse lot; and the Hikers' parking lot. Visitors with accessibility needs should pull into the Main parking lot and stop by the accessible parking spaces where a ranger will provide assistance. Other non-accessible parking lots are available in Flat Rock. Find more information about parking options here.
Find more information about accessibility here.

Shuttle
A shuttle will be available throughout the day from the Main parking lot and Hikers' parking lot to transport visitors to the amphitheater.

Music Festival is supported by:
Friends of Carl Sandburg at Connemara, Inc.
America's National Parks, the non-profit partner that operates the park store
A grant from the Henderson County Tourism Development Authority
---
The music festival began in 1987, to celebrate Carl Sandburg's efforts to document the history of American music in his American Songbag. Carl Sandburg published the American Songbag in 1927 after spending years documenting and researching early American songs. As Sandburg said, "The American Songbag is a ragbag of strips, stripes, and streaks of color from nearly all ends of the earth. The melodies and verses presented here are from diverse regions, from varied human characters and communities, and each is sung differently in different places." His publication does not focus on one genre of music, but rather on the human experience. "It is an All-American affair, marshalling the genius of thousands of original singing Americans."

Sandburg enjoyed all American musical genres. He spent years interviewing musicians and singers, documenting their songs, including folk, gospel, jazz and blues. Carl Sandburg said, "the American Songbag comes from the hearts and voices of thousands of men and women."

Compiling and publishing the American Songbag was one of the most difficult writing projects Sandburg took on during his life. Today, the Carl Sandburg Music Festival celebrates his work and the work of modern singers and songwriters to share diverse and original American music.
The members of Pretty Little Goat have been deeply involved in the local Junior Appalachian Musicians program, music camps, schools, and more. The band formed in 2013 through their common grounding in the deep well of local tradition found in the mountains of Western North Carolina. As young lovers of old-time music, Pretty Little Goat began winning string band competitions right away.

Duration:

29 minutes, 52 seconds
Matthew Tooni, Cherokee flute player and storyteller, grew up on the Qualla Boundary, the tribal lands of the Eastern Band of the Cherokee Indians, and continues to live there in the Painttown community. Tooni recorded an album, in 2017, and was subsequently nominated for a NAMMY (Native American Music Award) for Flutist of the Year.

Duration:

35 minutes, 7 seconds
Jon Shain is a veteran singer-songwriter who's been turning heads for years with his words, his fiery acoustic guitar work, and his evolved musical style – combining improvised piedmont blues with bluegrass, swing, and ragtime. He is the 2019 winner of the International Blues Challenge in the solo/duo category.

Duration:

32 minutes, 26 seconds
Emmy-nominated Kat Williams is a singer, actress, and songwriter who performs Jazz, Blues, Motown, R&B, Rock and Pop. Kat has performed with solo pianists, big bands, and full symphony orchestras. She sang the score to a ballet production of Porgy and Bess to rave reviews.

Duration:

21 minutes, 28 seconds
John and Sandy Perkins explore Carl Sandburg's "American Songbag" for Christmas at Connemara. One of the Sandburg family holiday traditions was to gather in the living room singing songs and listening to records. Not necessarily holiday music, but family favorite folk songs. Enjoy the music and sing along! Don't know the lyrics, turn on the captions and join in. While these were popular songs of the period, please note some of the songs have somber lyrics, though the music is easy to sing to.

Duration:

22 minutes, 11 seconds
Last updated: May 18, 2022