Plan Your Visit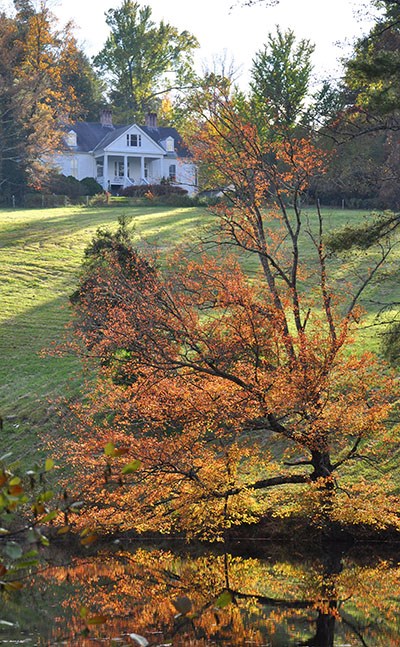 * Beginning October 1, 2019, fees for house tours will increase to $8 for adults; and $5 for adults 62 and older, including all America the Beautiful Interagency pass holders.
Carl Sandburg Home NHS is open 7 days a week, year round. Closed Thanksgiving, Christmas and New Year's Days.
The park is located on 264 acres in western North Carolina. Visitors can tour the Sandburg Home, hike on over 5 miles of trails, visit the farm and dairy goats, and much more. The average visitor spends two hours at "Connemara."
Please be prepared for your comfort - wear comfortable clothing and walking shoes. There is a limited selection of snack foods and water to purchase from the bookstore. Water is available at fountains (bring your own bottle). Please recycle any purchased water bottles.
Facilities: Including Sandburg Home and Goat Barn Open daily from 9:00 a.m. to 5:00 p.m. year-round, closed Thanksgiving, Christmas and New Year's Days. Park grounds are open sunup to sundown for walking and hiking.
Admission: Free to enter the park, access the bookstore and information in the ground floor of the Sandburg Home, walk the trails and visit the barn. There is a small fee for the house tour.

Sandburg Home: The Sandburg Home is a great place to start your visit! The ground floor of the home contains visitor information, exhibits, tour ticket sales, a bookstore, and you can watch the park video. The main and top level of the home are furnished with the Sandburg family belongings. Visitors may only access the furnished ares of the home on a guided tour.

Guided House Tour Fee: (cash or check only. Credit cards accepted October 1, 2019)
$5.00 for Adults 16 and older, $8.00 on October 1, 2019
$3.00 for seniors 62 and older, $5.00 on October 1, 2019
$3.00 for Access and Active Military Pass holders, $5.00 on October 1, 2019
Children 15 and under admitted free.
Passes: The park sells the America the Beautiful- National Parks and Federal Recreational Lands Passes.
*These passes do not waive the house tour fee, but do provide a discount.
30-minute house tours are offered every day, once an hour, first come-first served.
First tour begins at 9:30am; next tours at 10:30, 11:30, 12:30, 1:30, 2:30, 3:30, the last tour begins at 4:30pm.
During busy visitation additional tours may be added.
Visitors may only tour the Sandburg Home on a guided tour.
Tours are limited to 15 persons (limited to 12 persons on October 1, 2019).
Advanced reservations will be available through recreation.gov beginning October 1, with the first reserved tour available on December 1, 2019.
Parking: Free parking is available at the entrance to the park. The parking lot has three oversize vehicle parking spaces for RV's and buses. Vehicles with trailers will be unable to park in these spaces and should use the playhouse lot across the street subject to availability. On busy days the lot fills quickly.
Additional Parking Options
There is a new Hikers' Parking Lot located 1/2 mile down Little River Rd from the Visitor Parking Lot for visitors who are just coming to enjoy a hike in the park.
Visitors may use the Flat Rock Playhouse lot directly across the street in the morning until noon and in the afternoon when there are no performances. There will be signs posted at the playhouse to restrict parking for performances. Please be a courteous neighbor and pay attention to their signs.
Visitors may park behind the Flat Rock Village Offices located at 110 Village Center Drive, Flat Rock, NC. It is a short walk to the park from this lot.
---
Information for Groups
You are strongly encouraged to contact the park if you are visiting with more than 10 people in your group, even if it is just a family visit or a big motorcoach tour. We strive to make your visit the best experience it can be.
Adult Group
For groups of adults of ten or more, please see the Adult Group Reservation page for information about scheduling a visit.
School & Homeschool Groups
Please see our For Teachers section for more information about scheduling school groups.
Summer Camps/Youth Groups
Please visit our ParKids page for more information on activities available in the Park.
Area Trip Planning
Henderson County Visitor Information
Visit our Nearby Attractions page
If you cannot find what you are looking for, please do not hesitate to contact the park with your questions. We hope you enjoy your visit!


Last updated: September 4, 2019