Plan Your Visit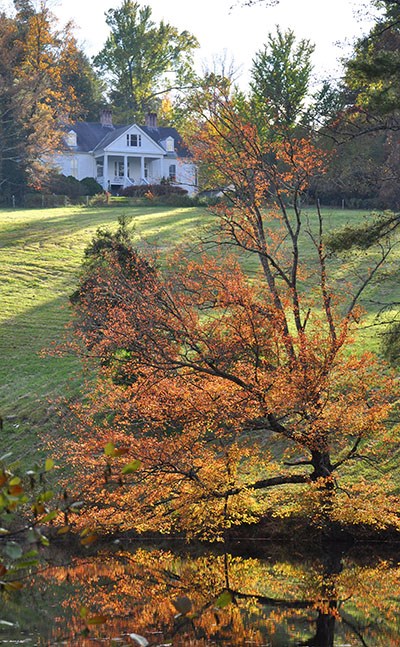 Carl Sandburg Home NHS is open 7 days a week, year round. Closed Thanksgiving, Christmas and New Year's Days.
Sandburg Home tours are cancelled until further notice, due to Covid19.

Parking lots, trails, grounds, and the restroom at the front lake are open. There are portable toilets at the top of the hill. Outdoor access to the goats (in the barnyard and pasture) is available from 10am to 3pm daily.
The park is located on 264 acres in western North Carolina. The average visitor spends two hours at "Connemara." See the list of things to do below.
Please be prepared for your comfort - wear comfortable clothing and walking shoes. There is a limited selection of snack foods and water to purchase from the bookstore. Water is available at fountains (bring your own bottle). Please recycle any purchased water bottles.

---
Admission
Free to enter the park, access the park store and information in the ground floor of the Sandburg Home, walk the trails and visit the barn. There is a fee for the house tour.

Parking
Free parking is available at the entrance to the park. The parking lot has three oversize vehicle parking spaces for RV's and buses. Vehicles with trailers will be unable to park in these spaces and should use the playhouse lot across the street subject to availability. On busy days the lot fills quickly.
Additional Parking Options
There is a new Hikers' Parking Lot located 1/2 mile down Little River Rd from the Visitor Parking Lot for visitors who are just coming to enjoy a hike in the park.

Visitors may use the Flat Rock Playhouse lot directly across the street in the morning until noon and in the afternoon when there are no performances. There will be signs posted at the playhouse to restrict parking for performances. Please be a courteous neighbor and pay attention to their signs.
* If you park at Flat Rock Playhouse, remember to move your car before noon or risk being blocked in for several hours on matinee days (Wednesday through Sunday).
Visitors may park behind the Flat Rock Village Offices located at 110 Village Center Drive, Flat Rock, NC. It is a short walk to the park from this lot.
---
Information for Groups
You are strongly encouraged to contact the park if you are visiting with more than 10 people in your group, even if it is just a family visit or a big motorcoach tour. We strive to make your visit the best experience it can be.
Adult Group
For groups of adults of ten or more, please see the Adult Group Reservation page for information about scheduling a visit.
School & Homeschool Groups
Please see our For Teachers section for more information about scheduling school groups.
Summer Camps/Youth Groups
Please visit our ParKids! page for more information on activities available in the Park.
Area Trip Planning
Henderson County Visitor Information
Visit our Nearby Attractions page
If you cannot find what you are looking for, please do not hesitate to contact the park with your questions. We hope you enjoy your visit!


Last updated: January 5, 2022