Plan Your Visit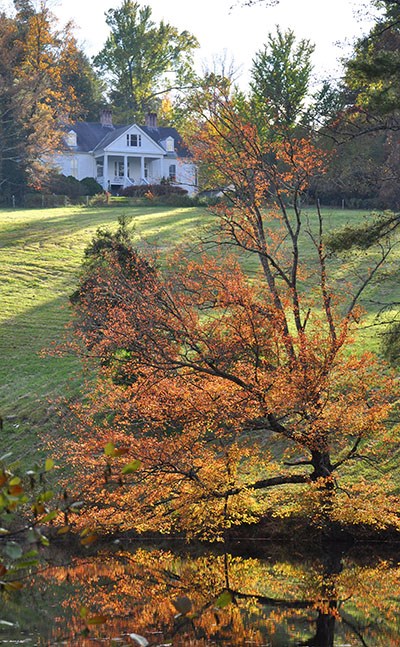 Carl Sandburg Home NHS is open year round.
The park is located on 270 acres in western North Carolina. The average visit is 2 hours. See the list of things to do below.
The pedestrian bridge at the main park entrance is closed. To access park buildings, restrooms, and trails on foot during the closure, visitors must now walk an additional 0.4 mile around Front Lake, and then walk 1/3 mile up a steeply graded hill to the Sandburg Home and farm. Be prepared for this detour when you arrive. View a trail map with the detour here. The Hikers' Parking Lot is another option to enter the park. Find information and directions on our "Parking" information page. If you need accessibility assistance, please call 828-707-8125 when you arrive and visit our "Accessibility" page for more information.
Shuttle available while Front Lake bridge is closed. A free shuttle will transport visitors from the main parking lot, on Little River Road, to the Sandburg Home and goat farm. The shuttle operates on the days the Sandburg Home is open - Thursdays, Fridays, Saturdays, and Sundays. The first pick up in the main parking Lot is at 10:20 a.m. The last drop off in the parking lot is at 3:40 p.m. The shuttle will pick up from the main parking lot every 20 minutes. Visitors who need the shuttle should gather at the Shuttle Stop sign located in the main parking lot near the accessible parking spaces. Shuttle service runs through October 30, 2022. Click here for more information.
The Sandburg Home Visitor Center/Park Store and Tours are open Thursday to Sunday (4 days a week) from 10am to 3pm.
Sandburg Home tours are available Thursday to Sunday at 11am, 1pm, 2pm. Advance reservations available at recreation.gov. 6 people per tour. Tours are free until further notice. Making reservations is strongly encouraged. Day-of-visit house tour tickets are rarely available. (The only way to see the furnished interior of the Sandburg Home is through a guided tour.).
Park Grounds, Trails and Parking Lots are open from sunrise to sunset daily. Free.
Outdoor access to the goats, in the barnyard and pasture, is available from 10am to 3pm daily (except Thanksgiving, Christmas, and New Years Day). Free.
Please be prepared for your comfort - wear comfortable clothing and walking shoes. There is a limited selection of snack foods and water to purchase from the bookstore. Water is available at fountains (bring your own bottle). Please recycle any purchased water bottles.
---
Admission
Free to enter the park, access the park store and information in the ground floor of the Sandburg Home, walk the trails and visit the barn.
Information for Groups
You are strongly encouraged to contact the park if you are visiting with more than 10 people in your group, even if it is just a family visit or a big motorcoach tour. We strive to make your visit the best experience it can be.
Adult Group
For groups of adults of ten or more, please see the Adult Group Reservation page for information about scheduling a visit.
School & Homeschool Groups
Please see our For Teachers section for more information about scheduling school groups.
Summer Camps/Youth Groups
Please visit our ParKids! page for more information on activities available in the Park.
Area Trip Planning
Henderson County Visitor Information
Visit our Nearby Attractions page
If you cannot find what you are looking for, please do not hesitate to contact the park with your questions. We hope you enjoy your visit!


Last updated: September 23, 2022