Photos & Multimedia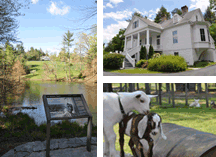 Photo Gallery
Click here to visit a collection of photo galleries containing images of Carl Sandburg, his home and farm.
Enjoy this short introduction to Carl Sandburg Home NHS in Flat Rock, NC. The park offers tours of the Sandburg Home, over five miles of hiking trails and cares for the descendents of Mrs. Sandburg's prize-winning goats.

Duration:

2 minutes, 2 seconds
This two minute film takes you on a visit to Carl Sandburg Home NHS during the spring to experience kids goats bouncing around and "defying gravity". Spring blossoms on the trails and a greening of the pastures makes it a lively and fun time to visit.

Duration:

2 minutes, 10 seconds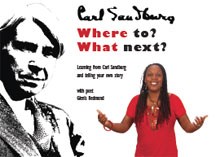 Where to? What next? Education Film
Carl Sandburg loved to use words to create poetry, stories and songs, many about his own childhood and growing up in America. Poet Glenis Redmond narrates this exciting video. Play Video (22mb, requires Window Media Player)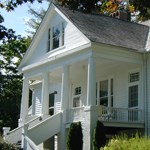 UNCTV Presents Carl Sandburg's Connemara
Join the Sandburgs' granddaughter Paula Steichen Polega as she recalls growing up at Connemara. Explore the 264-acre Henderson County home of one of the 20th century's most significant Americans. This video first aired in July 2006 and was produced by UNC-TV and Our State Magazine, with generous funding from BB&T.


Last updated: March 14, 2016