Where to? What next?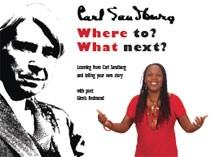 This film explores Carl Sandburg's history, his family, his love of words, and hope for the future of America. Those elements that helped craft the poet, writer, biographer, folk singer and social activist he became. By exploring our own past and dreams for the future maybe we too can find a voice as Sandburg did, and share it through poetry, story or song.
Click here to play video!

For Teachers
Incorporate the Where to? What next? educational film in your classroom. These lesson plans have been designed to meet education standards while creating an interactive and educational environment for students to learn about the life of the Famous American Poet, Carl Sandburg while exploring their own life. Please contact the park's education program coordinator to receive a copy of the DVD for your classroom.
The Where to? What next? education film was supported by a grant from the National Park Foundation through the generous support of the Evelyn and Walter Haas Jr. Fund, the National Park Service, Eastern National, the Friends of Carl Sandburg at Connemara and the Boys and Girls Club of Henderson County
Last updated: May 8, 2020