Sandburg Children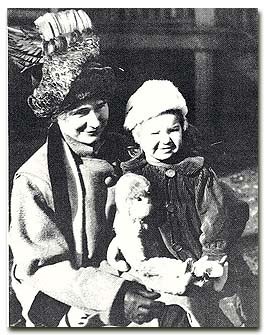 Carl Sandburg and his wife, Lilian "Paula" Sandburg, had three daughters whom he affectionately called his "Homeyglomeys."
Oldest Daughter: Margaret
Margaret
Many birds and the beating of wings
Make a flinging reckless hum
In the early morning at the rocks
Above the blue pool
Where the gray shadows swim lazy.
In your blue eyes, O reckless child,
I saw today many little wild wishes,
Eager as the great morning.
Carl Sandburg, Chicago Poems, 1916

Margaret Mary Steichen Sandburg arrived June 3, 1911 and was something of a child prodigy. She learned her letters and numbers by age four and was featured in the Montessori system's national brochure. A talented pianist, Margaret also liked to garden, read Shakespeare, and research French and Russian literature, Asian culture, and mythology.

Margaret was her father's librarian for the mass amount of books at Connemara. She helped edit many of his works and was instrumental in helping the National Park Service capture the story and spirit of her father once the Park had been established. Margaret died April 12, 1997, at 85.

"Margaret has become widely read, a scholar who often surprises me with her erudition, knows the Bible and Shakespeare better than I do."
Carl Sandburg, letter to Alfred HarcourtSeptember 24, 1953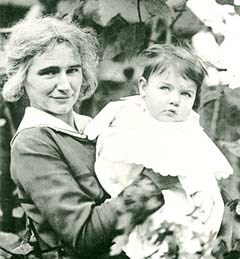 Second Daughter: Janet
Sixteen Months
On the lips of the child Janet float changing dreams.
It is a thin spiral of blue smoke,
A morning campfire at a mountain lake.
On the lips of the child Janet,
Wisps of haze on ten miles of corn,
Young light blue calls to the light gold of morning.
Carl Sandburg, Cornhuskers, 1918
Janet Mary Steichen Sandburg was born June 27, 1916. Carl wrote in a letter to a friend a few months later saying: " Janet, the new kid, has her mother's hair and face whereas the other daughter, has mine: so the household is at a glorious standoff." Herbert Mitgang, The Letters of Carl Sandburg

Janet Sandburg was quiet and shy around people, but around animals, she thrived. This proved useful around the farm as her main job at Connemara was feeding and caring for the baby goats, accompanying her mother to goat shows, and helping with gardening and housekeeping. Janet died on February 16, 2001; she was 85.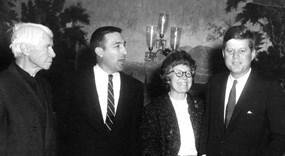 Youngest Daughter: Helga
Helga
The wishes on this child's mouth
Came like snow on marsh cranberries;
The tamarack kept something for her;
The wind is ready to help her shoes.
The north has loved her; she will be
A grandmother feeding geese on frosty
Mornings; she will understand
Early snow on the cranberries
Better and better then.
Carl Sandburg, Smoke and Steel, 1920

Helga Mary Steichen Sandburg was born November 24, 1918, while Carl was in Sweden. Initially named Mary Ellen, after a friend, Helga was given her new, Swedish name soon after her father's return home.

Like her literary father, Helga enjoyed writing. In 1958, she won the Emily Clark Balch prize for "Witch Chicken," published in the Virginia Quarterly Review. In addition to her published books, her work appeared in Saturday Review, Harper's, The New Yorker, McCall 's, Seventeen, and Georgia Review.
Helga shared her mother's affinity for animals and raised not only goats, but registered Siamese cats and Doberman Pinschers, and cared for Black Angus cattle, chickens, ducks, geese, and honey bees.
As the only Sandburg daughter to marry, she raised two children, John Carl and Paula.
Visit our Virtual Museum Exhibit to learn more information on Margaret, Janet, and Helga Sandburg .

Helga Sandburg Crile
https://cms.nps.gov/carl/learn/historyculture/helga-sandburg-crile.htm

Last updated: September 9, 2021