Date:
March 14, 2014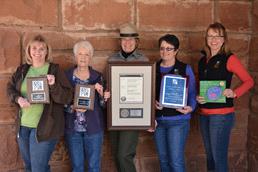 Director of the Capitol Reef Natural History Association, Shirley Torgerson, is proud to announce that a new book was awarded four prestigious awards from the 2014 Association of Partners for Public Lands (APPL) convention in Albuquerque. The Natural History Association brought to life a children's book "Why the Moon Paints her Face Black", which won the Award for Partnership Program or Project, Award for Children's Media, Award for Excellence, and the National Park Service Director's Award of Excellence in Interpretive Media. The APPL convention provides those organizations which support our public lands a forum to exchange ideas, discuss trends, and showcase products they have developed for their particular agency.
The creation of this book, which demonstrates the highest qualities of content, design, and enhancement of the National Park Service interpretive mission, brought together people from numerous walks of life, backgrounds and agencies. In 2012, linguists student Chloe Brent conceived an idea for a project to preserve endangered languages which resulted in an illustrated bilingual children's book based on a traditional Paiute cosmological story, Why the Moon Paints her Face Black. Chloe contacted Capitol Reef National Park, and Dava McGahee, Cultural Program Manager (now retired), arranged for an internship for Chole through the Colorado Plateau Ecosystems Study Unit which provided funding for an internship through Utah State University.
With approval from the Paiute Indian Tribe of Southern Utah, Paiute elder Eleanor Tom of the Cedar Band told the story, as Chloe transcribed it in English and Southern Paiute. Southern Paiute is not a written language, and this book and its accompanying CD preserves the spirit, tone and expression of this Colorado Plateau language. Southern Piute children then created the illustrations. The book's layout and design was accomplished by JoAnn Dawson, Visitor Use Assistant at Capitol Reef National Park. Shirley Torgerson, Director of the Capitol Reef Natural History Association, enthusiastically nurtured the project through editing, production, printing and distribution.
"This was a very special project for all of those involved", said Leah McGinnis, Superintendent at Capitol Reef National Park. "It is a great example of what a successful partnership is all about."; "Why the Moon Paints her Face Black" has drawn on the talents and efforts of many individuals and organizations to produce a book which expands our understanding of Paiute tradition, develops our relationship with the universal language of storytelling, and contributes to the preservation of this thread in the fabric of our culture.
The book is available at the Natural History Association bookstore at Capitol Reef National Park's visitor center, and online at www.CRNHA.org