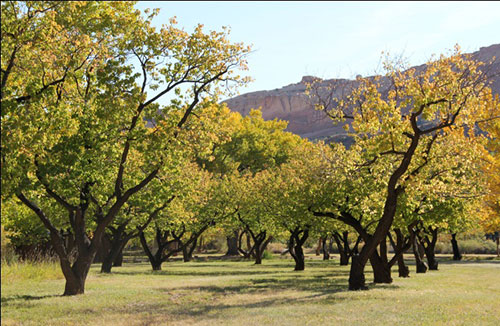 News Release Date:
October 9, 2015
Contact: Visitor Center, 435-425-4111
The Capitol Reef National Park Visitor Center is currently open 8:00 am to 6:00 pm through October 31. Free interpretive programs will include: a geology talk at the visitor center at 10:00 am, Prehistoric Culture talk at the Highway 24 petroglyph panel at 3:00 pm. evening programs on weekends at the campground, and other walks and talks as staffing allows. Check at the visitor center for times. Beginning November 1, visitor center hours will be 8:00 am to 4:30 pm daily through the winter. 
The building will be closed on major holidays including: Wednesday, November 11, 2015 - Veteran's Day; Thursday, November 26, 2015 - Thanksgiving Day; Friday, December 25, 2015 - Christmas; Friday, January 1, 2016 - New Year's Day; Monday, January 18, 2016 - Dr. Martin Luther King, Jr. Day; and Monday, February 15, 2016 - President's Day. 
Capitol Reef will celebrate Earth Science Week Friday and Saturday, October 16 and 17 with special wildlife programs and activities at Ripple Rock Nature Center. Check the visitor center for times. 
The historic Gifford House, located 1 mile (1.6 km) south of the visitor center on the Scenic Drive, is open 8:00 am to 6:00 pm daily through October 31, 2015. Fresh baked pies, breads, and pastries are available for purchase. The Gifford House will close for the season on Sunday, November 1, 2015. 
Autumn and winter are wonderful times to enjoy park trails, the park movie, and the Capitol Reef Natural History Association bookstore as well as fruit available for harvest from the park's historic orchards.