Date:
September 25, 2012
Contact:
Visitor Center, 435-425-4111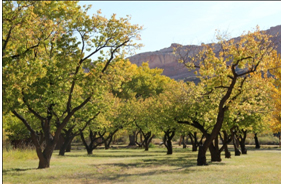 No spring or summer beauty hath such grace
As I have seen in one autumnal face. - John Donne
The Capitol Reef National Park Visitor Center operating hours will be 8:00 am to 5:00 pm daily starting Monday October 1, 2012. Starting October 1 through October 20 free interpretive programs will include: a geology talk at the visitor center at 10:00 am and evening programs at the campground on weekends only, check the visitor center for times. The building will be closed on Thursday Novemeber 22, 2012 for the Thanksgiving holiday.
Capitol Reef will celebrate Earth Science Week October 18-21 with special geology programs and activities including kids' programs at Ripple Rock Nature Center.
The historic Gifford House, located 1 mile (1.6 km) south of the Visitor Center on Scenic Drive, will be open 8:00 am to 5:00 pm daily through October 27, before closing for the season. Fresh baked pies, breads and pastries are available for purchase.
Typically the visitor center hours are 8:00 am to 4:30 pm in the winter, 8:00 am to 5:00 pm in spring and autumn and 8:00 am to 6:00 pm in the summer.
Autumn is a wonderful time to enjoy the exhibits, park movie, and the Capitol Reef Natural History Association bookstore as well as harvest available fruit from the parks historic orchards. For more information, contact us at 435-425-3791 or follow us on www.twitter.com/CapitolReefNPS or www.facebook.com/CapitolReefNPS.
Enjoy autumn at Capitol Reef National Park!