Island in the Sky

The Island in the Sky mesa rests on sheer sandstone cliffs over 1,000 feet (304 m) above the surrounding terrain. Every overlook offers a different perspective on Canyonlands' spectacular landscape. Island in the Sky is the easiest area of Canyonlands to visit in a short period of time, offering many pullouts with spectacular views along the paved scenic drive. Hiking trails or four-wheel-drive roads can take you into the backcountry for a few hours or many days.
Location
To reach Island in the Sky, drive 10 miles (16 km) north of Moab or 22 miles (35 km) south of I-70 on US 191. Turn onto UT 313, and then drive southwest 22 miles (35 km). Driving time to the visitor center from Moab is about 40 minutes.
We strongly recommend using a map to reach Island in the Sky. A navigation system may send you the wrong way.

Things to Do at Island in the Sky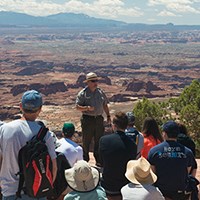 Ranger Programs
Learn more about the natural and cultural resources at Canyonlands National Park. Join a ranger for a talk, hike, or evening program. Check the schedule below for ranger activities at Island in the Sky.
All program schedules are subject to change. Schedules and times vary, so please check locally at visitor centers and campground bulletin boards for current listings.
Search Filters
By Park
By State
By Event Type
Last updated: October 30, 2018