Kate Cannon Named Superintendent of Southeast Utah Group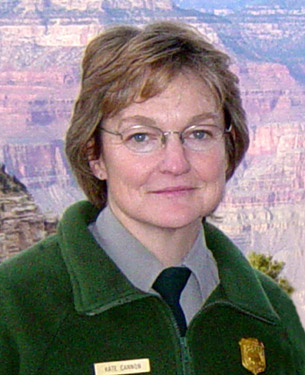 News Release Date:
May 5, 2006
Contact: James Doyle, 303-969-2321
Contact: Patricia Turley, 303-969-2701
Kate Cannon, deputy superintendent of Grand Canyon National Park, has been named superintendent of the Southeast Utah Group, which includes Canyonlands National Park, Arches National Park, Natural Bridges National Monument and Hovenweep National Monument. Cannon will assume her new responsibilities early this summer.
Cannon has been a federal employee for more than 31 years, beginning as a seasonal at Isle Royale National Park. Cannon recently completed a detail as interim deputy regional director for the Intermountain Regional Office.
"Kate brings a wealth of management experience to her new job as superintendent, and will provide solid leadership to Canyonlands and other southeast Utah national parks well into the future," regional director Mike Snyder said. "She has the skills, the vision and the expertise to ensure the park and the park's visitors continue to enjoy the best of the region."
Collaboration is a key component Cannon brings to the position of sperintendent. 

"I am eager to join and work with the local community and its stakeholders as well as the talented staff at the South East Utah Group," she said. "Together we can manage these extraordinary resources and protect them for future generations. The landscape in the region and the variety of the resources it contains are incredible. This job and the opportunity it presents are a dream come true."
From 1990 to 1997, Cannon served as superintendent of Jewel Cave National Monument in South Dakota. She also worked as a concessions management specialist at Glen Canyon Recreation Area, resource management specialist at Northwest Alaska Areas, concessions management assistant in the Alaska Regional Office, and as a park ranger at Yukon-Charley National Preserve in Alaska, Canyonlands National Park, Isle Royale National Park in Michigan, and North Cascades National Park in Washington.
Cannon holds a bachelor of science degree in natural resource management and a secondary school teaching certificate from the University of Nebraska. Cannon and her husband, Ross, who retired from the National Park Service, have two daughters, Mary and Zhanna.
Last updated: February 24, 2015