Chinle Formation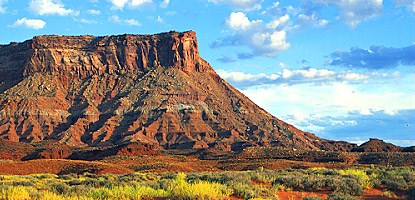 The Chinle Formation is composed of the Shinnarump and Moss Back members. Each has different characteristics due to changes in the depositional environment.
Deposited:
Triassic Period (208 to 245 million years ago)
Depositional Environment:
Tropical streams, lakes and swamps
Appearance:
Multi-colored slopes of clay with dark brown sandstone ledges (Moss Back)
Example:
Talus slopes immediately below the Wingate cliffs at the Island in the Sky District of Canyonlands
Notes:
Uranium is often found in the Moss Back Member of the Chinle. Though most uranium mines are in the Morrison Formation, the famous Mi Vida mine in Lisbon Valley was in the Chinle. The multi-colored clays in the Chinle are bentonite (volcanic ash).
Last updated: December 14, 2015