Air Quality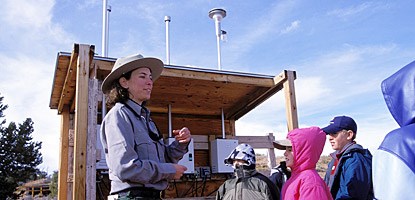 The national parks, monuments, forests and recreation areas of the Colorado Plateau have long been popular destinations for travelers. Together with their stunning landscapes, these reserves share another common resource: some of the cleanest air remaining in the contiguous 48 United States. It is clean air that allows sweeping panoramas of color and texture stretching over thousands of square miles. Of course, clean air is also critical for the health of resident plants and animals.
Many visitors to Canyonlands don't see the clear vistas they expect. A haze often hangs in the air, and most of this haze is not natural: it is air pollution, carried on the wind from distant coal-fired power plants and other industrial facilities.
Canyonlands is considered a Class I area under the Clean Air Act, which requires that the park receives the highest level of air- quality protection. Consequently, Canyonlands participates in the National Park Service's comprehensive air resources management program, designed to assess air pollution impacts and protect air quality related resources.
A monitoring station at the Island in the Sky District of Canyonlands records ozone and gaseous air pollutants in the atmosphere of the Colorado Plateau. Learn more about air quality monitoring at Canyonlands as part of the Northern Colorado Plateau Network.


Last updated: November 13, 2019