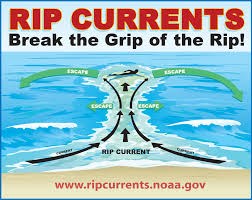 Rip Currents
A rip current is a current that flows away from the beach. These currents can extend from the near shore through the surf zone to out past the breaking waves. The surf zone streches from the high tide line out to the breaking waves.
If you find yourself caught in a rip current, do not swim against the current. Stay calm, swim parallel to the shore, and slowly work your way back to shore at an angle.
If you have an emergency call 911.