Horseback Riding Permits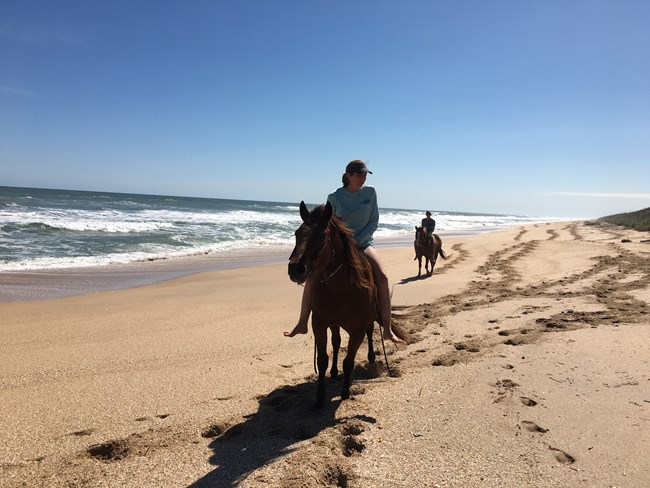 Reservations are required. Prior to riding in Canaveral National Seashore, private stock users must obtain a Horseback Riding Permit. A separate permit is required for each day you will be riding. Only one individual in the group needs to obtain a permit. To obtain a permit, please call the Apollo Visitor Center at (386) 428-3384 ext. 0. On the day of your reservation please check in at the visitor center in person, 7611 S. Atlantic Ave., New Smyrna Beach FL, 32796.

Horse use is restricted to Apollo Beach. There is no horse use at Playalinda Beach.

A Special Use permit must be obtained before using horses within the seashore. The permits will be issued upon check-in at the visitor center at a recovery cost of $75.

Horseback riding is permitted in the designated area with access from the Administrative boardwalk across from the Information Center. Horseback riding is prohibited within the seashore from April 15 (or when the first turtle nest is laid) through October 31(or after the last nest is hatched), because of sea turtle nesting season.

Reservations - There is a limit of six (6) horses per reservation per time slot. Due to limited parking for trailers, there will be no waiting with horses for access to the beach. Reservations may be obtained by calling the visitor center and selecting an AM or PM time slot.

Parking - All horse trailers and vehicles must be parked in designated parking areas. The designated parking area is across from the visitor center near the administrative boardwalk. Do not blocking access to the road or boardwalk.

A valid Coggins certificate must be presented at the time the permit is issued.

Horse owners are responsible for maintaining sanitary conditions. Horse droppings must be removed from the parking areas, beaches and roadways by owners.

Horses must be led over the boardwalk by the rider, not ridden. Horses must proceed at a slow walk when passing the immediate vicinity of persons on foot. Care must be used by riders to avoid entanglement with fishing line and equipment.

Neither rider nor horses are permitted in the dune zone.

Horses are not permitted to consume vegetation. All forage and water must be provided by the owner.

Canaveral National Seashore reserves the right to cancel a permit at any time if it is necessary to protect natural or cultural resources or if the activity is deemed detrimental to health and safety.
Last updated: January 17, 2021