Directions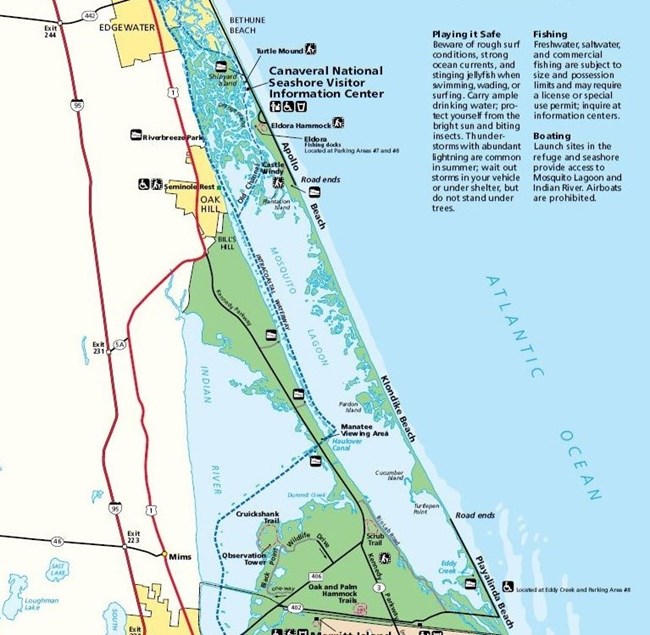 Most visitors arrive to the seashore by car. Public transportation does not travel out to the park in either the Apollo or Playalinda District. Visitors may tour the park via private vehicle, bicycle, or on foot.
Apollo Beach District is popular to visitors bicycling into the park winding through neighborhoods along Atlantic Avenue via New Smyrna Beach with some traffic. Playalinda Beach tends to not see many bicycle travelers.
The road leading to the Playalinda Beach entrance has a speed limit of 55 mile per hour with heavy high speed traffic during peak commuting hours (mornings and evening).
Park Address
Canaveral National Seashore
Apollo Visitor Center,
7611 S Atlantic Ave
New Smyrna Beach, FL 32169
Canaveral National Seashore is located midway on Florida's east coast between Daytona Beach and Melbourne, are accessible via U.S. 1, I-95, and Fla 528 (Beach Line Expressway).

Apollo Beach – This is the northern access of Canaveral National Seashore, located on Fla A1A at the southern-most end in New Smyrna Beach.
***I-95 exit 249 - then proceed east and follow the signs.
Playalinda Beach- This is the southern access of Canaveral National Seashore, in Titusville. Playalinda Beach is reached via Fla 402 (also known as Beach Road).
***I-95 exit 220 - then proceed east on Garden Street and follow the signs.
Seminole Rest - is located east of US-1 in Oak Hill on River Road. In Oak Hill, turn east onto Halifax Avenue, which is located by the flashing caution light on US-1. Take Halifax Avenue east to River Road. Turn north on River Road. Seminole Rest is two tenths of a mile on the east side of River Road.

GPS COORDINATES (Lat/Long)
Playalinda Beach Entrance Station: 28.6450, -80.6834
Apollo Beach Entrance Station: 28.9368, -80.8302
Apollo Visitor Center: 28.9271, -80.8244
Seminole Rest: 28.8692, -80.8376
Park Administration Office: 28.6131, -80.8078

Oversized Vehicle Parking
Apollo Beach parking area # 1.
Playalinda Beach parking area #2.

---
Local Airports
Orlando International Airport - Orlando International Airport is approximately an hour away from Playalinda Beach. You may experience a considerable amount of traffic traveling through Orlando on either I-4 or SR528 (toll road).

Daytona Beach International Airport - Daytona Beach International Airport is approximately 45 minutes to an hour away from Apollo Beach. Traffic varies depending on whether you take the highway or not. It is possible to take US-1 or I-95 south to the seashore from this airport.


Last updated: August 6, 2020