Laws & Policies
Enabling Legislation
Public Law 93-626 93rd Congress, H. R. 5773
January 3, 1975
An Act
"Be it enacted by the Senate and House of Representatives of the United States of America in Congress assembled, That in order to preserve and protect the outstanding natural, scenic, scientific, ecologic, and historic values of certain lands, shoreline, and waters of the State of Florida, and to provide for public outdoor recreation use and enjoyment of the same, there is hereby established the Canaveral National Seashore..."
Park Regulations
The Code of Federal Regulations
36 CFR parts 1-199
and the Park Compendium provide a complete listing of park rules and regulations. These most specific rules are developed with public input to implement applicable law.


FIREARMS

As of February 22, 2010, federal law allows people who can legally possess firearms under applicable federal, state, and local laws, to legally possess firearms in this park. It is the responsibility of visitors to understand and comply with all applicable state, local, and federal firearms laws before entering this park. Federal law also prohibits firearms in certain facilities in the park. "Federal Facilities" are defined as a "building or part thereof owned or leased by the Federal Government, where Federal employees are regularly present for the purpose of performing their official duties." This includes but is not limited to administrative buildings, visitor centers, and within walled forts including any open grounds therein.
Emergencies: Park visitors should call 911
General Park Regulations
Glass containers are not allowed
All litter must be removed from the Seashore and place in proper trash receptacles
Visitors must obey the park speed limits and all park regulations
Fireworks are not allowed within park boundaries
Pets are not allowed on the beach at Canaveral National Seashore
The use of Personal Watercraft (PWC) is prohibited by Federal Regulation
Fishing limits are based on applicable Florida State laws
Metal detectors are prohibited by Federal Regulation
All plant and animal species are protected within Canaveral National Seashore
When authorized, containerized fires are allowed only in designated areas
Drink responsibly and follow all state laws on alcohol consumption.
Canaveral National Seashore was are created by the Congress of the United States of America and establish the highest order of legal authority over National Parks.
The 1916 "Organic Act" created the National Park Service and affect all areas managed by the National Park Service.
The 1975 enabling legislation of Canaveral National Seashore provides specific instructions and guidance on how this park must be managed.
Service-wide policies for the National Park Service are developed by the Office of Policy with public input and in accordance with applicable laws. Policies dictate many of the overall directions and procedures used by all parks.
Learn and Explore
For More Information on the Seashore's Rules & Regulations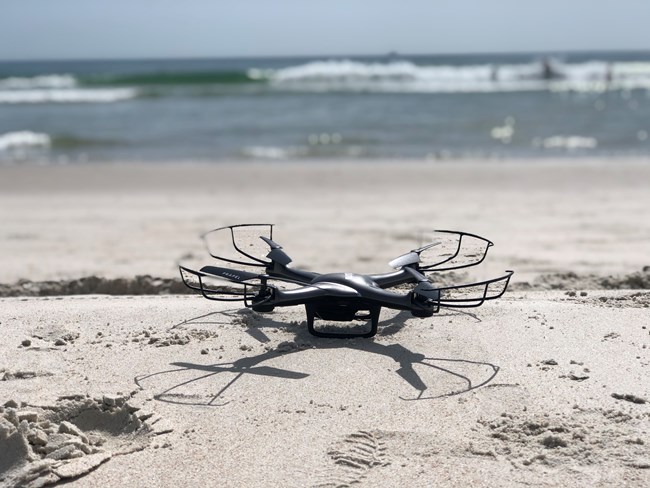 Unmanned Aircraft are prohibited in all National Parks
Unmanned aircraft make the coolest videos! But they are banned from use at Canaveral National Seashore by federal law (36 CFR 1.5 to prohibit the launching, landing, or operation of unmanned aircraft). Flying them in this area can mean much more than getting a pretty video. Being caught flying one can land someone banned from the park. We are a border area for one of the nations biggest rocket launching areas at Kennedy Space Center. It may be viewed as a threat to national security. So please keep them at home. Bring your camera and leave only footprints.

For more information on unmanned aircraft in the park read the Superintendent's Compendium.
Here is a great article that explains in detail why "all" National Parks have banned the use of drones, https://www.nps.gov/…/unmanned-aircraft-in-the-national-par…
Unmanned aircraft can be detected remotely from Kennedy Space Center. https://www.unmannedsystemstechnology.com/…/drone-detectio…/


Last updated: December 18, 2020