Volunteer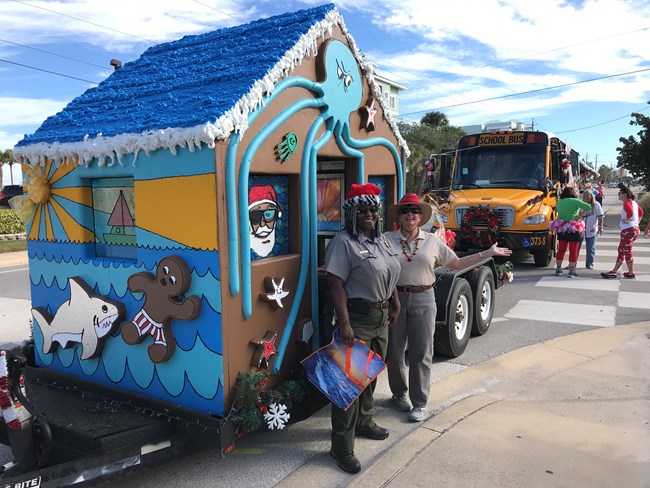 Canaveral National Seashore volunteers may staff the historic homes, perform beach clean-ups, assist with educational programs, assist with events or perform other tasks such as participating in the holiday parade (as shown in the photo). The park and the service as a whole could not fulfill the National Park mission without our volunteers! Thank you volunteers for your service.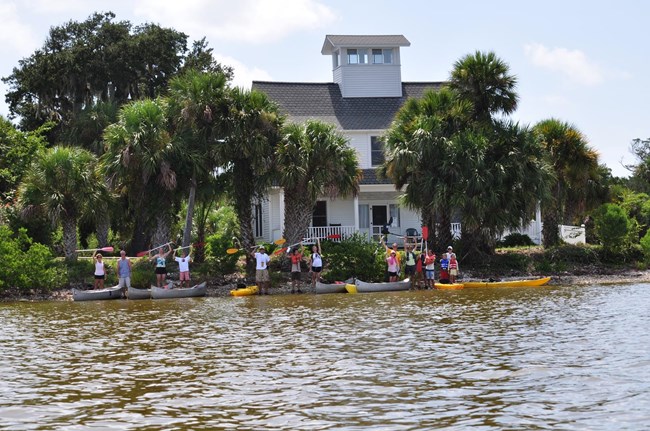 Volunteer Forms
If you would like to volunteer, please fill out the two forms below. Send them to the volunteer coordinator at the 'contact us' email link at the bottom of the page. If you have questions please call the Apollo Visitor Center at (386) 428-3384 ext zero.
Volunteer Application
Volunteer Background Check
Opportunities
Opportunities at Canaveral National Seashore encompass the diverse natural and cultural resources of the park. History buffs, amateur naturalists, artists, students, and more have a place to share their skills at Canaveral National Seashore. Groups and individuals are welcome! Learn new skills and apply what you already know.
Play a vital role in many aspects of park operations by:
Providing information to visitors

Conducting educational programs

Assisting Resource Management projects

Leading hikes and presenting interpretive programs

Beach cleanups & trail cleanups
Contributing digital content such as photos

Interested in volunteering and want to find out more?
Speak with a ranger at: (386) 428-3384 ext. 0 or email us through the 'contact us' link at the bottom of the page.

Areas where one may be able to volunteer:
Apollo Visitor Center
Apollo Visitor Center Address/Contact Information:
The Apollo Visitor Center is located at 7611 S. Atlantic Ave., New Smyrna Beach, FL 32169.
Eldora House
Eldora House Address/Contact Information:
7611 S. Atlantic Ave., New Smyrna Beach, FL 32169.
Seminole Rest Historic Home
Seminole Rest Address/Contact Information:
Seminole Rest is located at 207 River Rd., Oak Hill, FL 32759.
Playalinda Beach
There is no physical address. The entrance is located on East SR 402. Titusville is the closest town.


Last updated: August 18, 2023