Portsmouth Homecoming
Every other year, the Friends of Portsmouth Island, in cooperation with Cape Lookout National Seashore, sponsor an old-fashioned homecoming in Portsmouth Village. Everyone is welcome to join in this celebration of history and community.

Portsmouth Homecomings are traditionally held in even-numbered years in April. The next Portsmouth Homecoming is set for April 24, 2024.

Traditionally, homecomings in the south are for the members of a particular church or family, but the Portsmouth Homecoming welcomes everyone. In fact, about half of the participants at homecoming are first time visitors to the village.
The homecoming service, traditionally held in the church but now held on the grounds in front of the church, includes singing, special music, recognition of guests and other visitors, a short devotional, and good fellowship. Dress for the day is very informal. Jeans are appropriate.
In addition to the homecoming service, the village is open for visiting, and the service itself is followed by a traditional "dinner on the grounds."
Photos from previous homecomings
can be viewed in our gallery.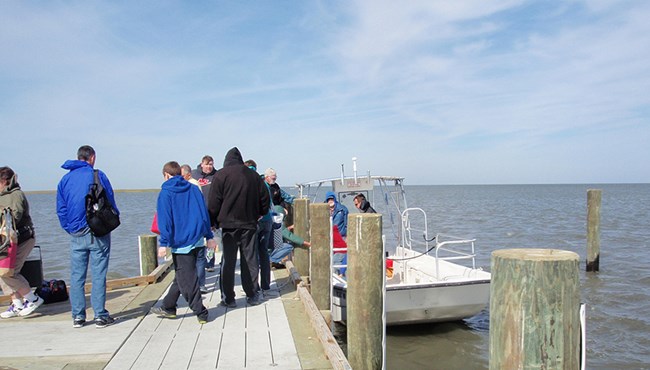 Getting to Portsmouth can be a challenge. Access is by water only and there are no hard surface roads on the island. Most folks catch the passenger ferry from the village of Ocracoke. Others, who are familiar with the waters between Ocracoke and Portsmouth Village, arrive by their own boat. In years past, some people with four-wheel drive vehicles would take the privately operated vehicle ferry from the village of Atlantic, and then drive their vehicles 17 miles up the beach to get to Portsmouth. However, there is still a deep inlet, cut by Hurricane Dorian in 2019, between the vehicle ferry landing area and the village which prevent vehicles from reaching Portsmouth village.

If you are planning on joining us for Homecoming, you will need to make your own reservations with the ferry service.

Information on planning a trip to Portsmouth, during Homecoming or at another time of year, can be found on the Visiting Portsmouth Village webpage.


Last updated: August 1, 2023